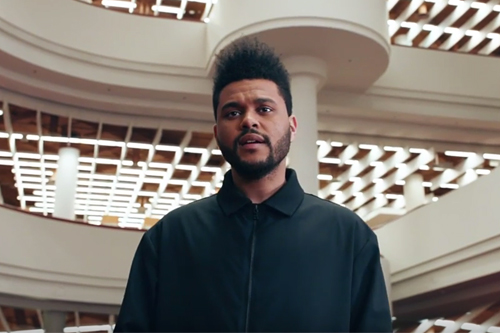 The Weeknd takes viewers into a world of wonder in his artistic new video for "Secrets."
The eerie Pedro Martin-Calero-directed visuals highlight each angle as the Canadian singer is filmed in an architectural masterpiece of a hotel.  Riding a rounded elevator, walking through the lobby, split through glass reflections, the pop superstar appears almost invisible.
A woman, who stars as his love interest, in seen writhing over a transforming white bed as some spooky men look on. Abel has his own moments of creepy staring, while the woman is seen with another man, but is it supposed to be him? Or is he projecting his fantasies of being with her?
The video leaves you wondering if there are multiple underlining plots and scenarios. But, keeping in line with his previous visuals, the Starboy cross appears at the end. Abel walks through the snow outside peering up at the giant floating crucifix and the screen goes dark.
The Weeknd will close out the U.S. leg of his "Starboy: Legend of the Fall Tour" on June 17 in Dover, Delaware, and then take the trek back to Europe.
Check out the mysterious "Secrets" video below.