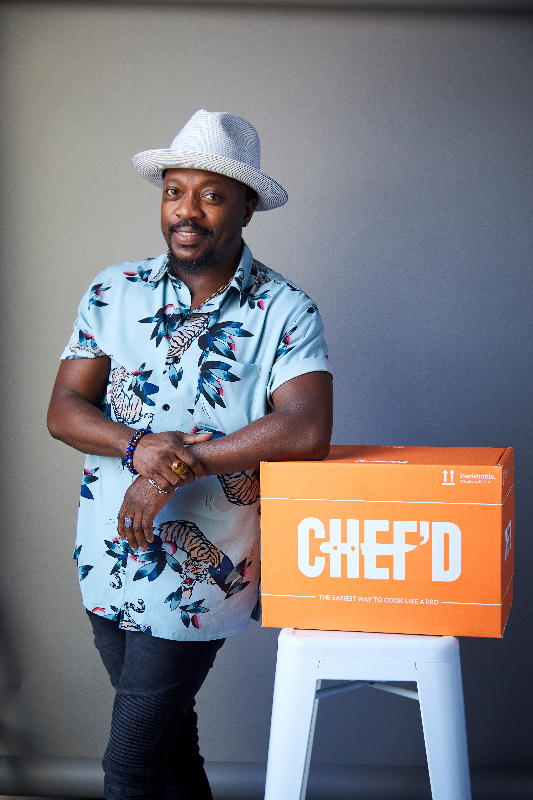 You can now call him Chef Hamilton. Grammy Award-wining soul singer Anthony Hamilton is mixing sage and soul via his recent partnership with Chefd.com, a meal prep delivery service.
His collection features six southern chic recipes and the official launch is tomorrow, August 1.  Fans and foodies will love the delectable selections Hamilton has curated.
ThisisRnB recently chopped it up with Hamilton about his latest venture, "I just love cooking; it's therapeutic. I love food," explained Anthony. "It's all about pairing your passion with an opportunity and making it create new avenues for yourself."
Check out the full interview below, where Anthony reveals the dishes he has uniquely prepared, the music he listens to while in the kitchen, what he would prepare if cooking for a special new lady, and more!

I remember the last time we spoke, you mentioned how you like to get down in the kitchen. What are some of your recipes featured on Chef'd?
We have the Garlic Shrimp and Butter Fettuccine noodles; Pan Seared Chicken Breast with Sauteed Cabbage and Turkey Bacon; Honey Dill Salmon; Rack of Lamb with Curry Corn and a Mustard Sauce.
What made you get into this particular venture?
I just love cooking; it's therapeutic. I love food. It's all about pairing your passion with an opportunity and making it create new avenues for yourself.
Food and music are integral parts of our culture. Is there some specific music that helps you get down while you're cooking? What's on your playlist?
Is just depends on the day. If I'm listening to some good music and if I'm having a glass of wine while I'm cooking, I'll put on a little Sade or something like that. Music that's gon' speed up the cooking of the food. Kem, and sometimes it's just an instrumental like Boney James or Wynton Marsalis, any of those greats—Herbie Hancock, Corinne Bailey Rae.
Are you dating now, Anthony? Do you have a special lady?
I'm interested in dating. I'm just figuring life out, enjoying each day, one day at a time. One phone call at a time. Instead of in repair, I'm in prepare.
So say that you met a nice young lady and you want to prepare a meal for her. You invite her over to the crib for dinner. What would you fix for her ?
First, I'ma figure out what she's allergic to and what she likes. And we'll go from what she likes and prepare something around that. I like to go to salmon; salmon is always safe. Chicken is always safe. I make really strong and really awesome cabbage, so I'd like to put that cabbage out there. My curry corn is always a conversational piece.
Which spice in the kitchen best describes you?
I think curry. It's a unique and honest herb. It's pungent, yet it has a softness to it. It's got a lot of color in it too.
Now that you're Chef Hamilton, is there a restaurant on the horizon?
Yes, definitely.
What's going on with you musically? Congratulations on 40 million albums sold, that is phenomenal. You are definitely at the top of our playlist.
The music thing is shifting to me being behind the scenes and bringing out some new talent, like The Hamiltones. I'm producing them and putting them out and just seeing what happens and what we can create with that. I [recently] got inducted into the North Carolina Music Hall of Fame.
Tell us more about The Hamiltones project.
The Hamiltones are a trio of guys from the churches of North Carolina that bring any stage new meaning. They come to sang!
Does your work with Chef'd and The Hamiltones mean that fans will have to wait for new music from you? If new music is coming, please share details.
No not at all. It's just an extension of who I am and other ways of expressing myself. I think it'll give me more motivation.
Who taught you how to cook?
My family, starting with my mother and grandmother. They both were awesome cooks. My father also could make the kitchen do things that the taste buds welcomed.
What inspired your recipes? 
My recipes are taken from some of my favorite dishes and tweaked to give my fans and food lovers more excitement. Traveling the world gives creativity.
–Interview by Raquelle Harris
Look for Anthony Hamilton's special recipes to be available through Chefd.com on August 1st.