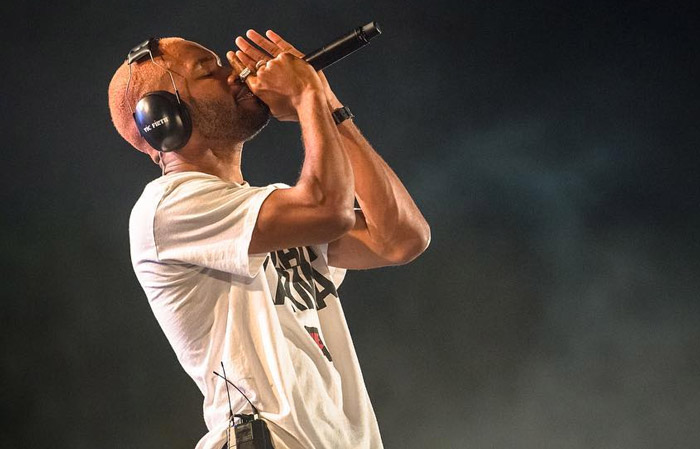 After his performance at Lovebox Festival in London, Frank Ocean made his U.S. fans elated on Saturday night (July 22). The elusive singer-songwriter  capped off Day 2 of FYF Fest in Los Angeles for his first performance in the States in three years.  It was an anticipated event to say the least, and the crooner delivered a captivating experience at Exposition Park, he even surprised everyone with a cameo from actor Brad Pitt!
Ocean took the stage in the same recording studio setup he used at Lovebox. He performed wearing isolation headphones, rocking an "Instant Karma" Nike T-shirt with sequined pink and green Converse sneakers. Director Spike Jonze filmed the performance, which was broadcast in a vintage lo-fi style on the giant screens.
With a disco ball perched above the stage, the Grammy winner opened with "Solo" off last year's acclaimed Blonde before performing a trio of tracks from Blonded Radio—"Chanel," "Lens," and "Biking." He also touched on his Endless visual album with "Comme des Garçons."
"This is my fourth show back in so many years," said the singer, who canceled his headlining set at FYF two years ago. "I want to thank ya'll for trusting me tonight. Some shit might get fucked up so be patient with your boy and we'll try it again."

The biggest surprise of the evening came when he performed "Close to You," a cover of Stevie Wonder's rendition of The Carpenters' song, which appears on Blonde. While he sat at the piano, Brad Pitt appeared near the side of the stage, taking a phone call as cameras captured Ocean serenading him.
Earlier this year, the actor expressed his love for Ocean in a GQ interview. "I've been listening to a lot of Frank Ocean. I find this young man so special," he told the magazine. "Talk about getting to the raw truth. He's painfully honest. He's very, very special."
Other highlights came when Ocean debuted a cover of Steve Monite's 1984 disco song "Only You," which he plans to release on a future episode of Blonded Radio. "Only you can put out this fire," sang Ocean during his upbeat rendition.
The evening continued with fan favorites like "Thinkin Bout You," "Nights," "Pink + White," and the closer "Nikes," for which lyrics were displayed on screen in karaoke style with Hello Kitty graphics.
"I'm not him but I'll mean something to you / I'll mean something to you," he sang before exiting the stage.
(Photo by Roger Ho/FYF Fest – Details and footage by Rap-Up and Antonio Ylanan)