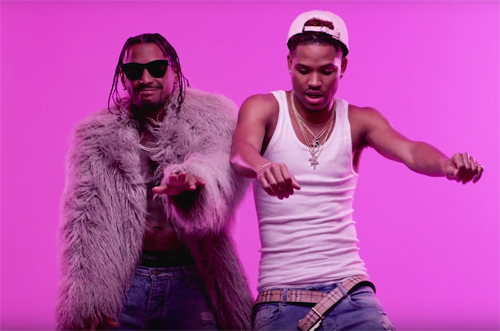 Motown Records signee Malachiae Warren kicks off the week with the premiere of his sexy visual for "I'm Down" featuring Lloyd.
The sensual, summery single samples Boyz II Men's mega hit "On Bended Knee."  In the pink-themed video–directed by Millicent Hailes–the Streetlove collaborators get cozy with some sexy video vixens. Showing off his tattooed torso while rocking only a fur coat, Lloyd opens the remixed version of the song and borrows from Drake.
"Do anything that you want me to / Like Controlla / Shawty won't you come over / I'll show ya, I'll show ya / Baby I'm so down to go down," he sings.
Malachiae comes in next with his sex-fueled verse about what and how he plans to treat his lady in the bedroom. "I'm young but I'm ready / I can teach you something if you let me / Just tell me what it is / Shawty you gon' get the biz," he sings.
Just last month, Malachiae surprised fans with the new EP, The Wake Up. He is currently working on his debut album, which is coming soon via Motown Records.
In related video news, Lloyd released the sleek visuals for his new single "Heavenly Body" featuring Rick Ross last week.
Check out their video for "I'm Down" below.