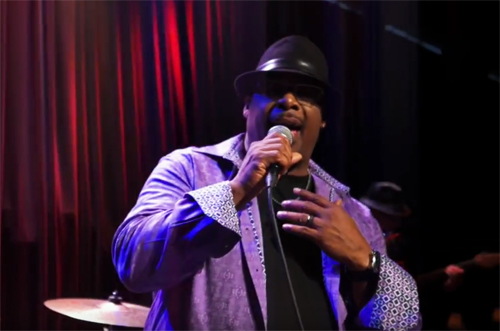 Indie R&B artist Andy Stokes has the music for love.
Following up his last single "Let's Have A Good Time", the Oregon Music Hall of Fame member returns with a video for his most recent release "Music For Love."
Set in Seattle's Dimitriou's Jazz Alley, Stokes and his band perform a grown-and-sexy set for an audience of lovers. His own chanteuse in yellow is seen walking closer and closer to the stage before he begins to serenade her directly.
"You got my love on fire baby," he sings. "It feels so good to me sugar / Just the touch of your hand brings chills all over my body."
One couple in the crowd shares chocolate covered strawberries, while another have a romantic evening turn into a celebration when they get engaged in front of everyone. Andy and his lady dance together on stage, but in the end she is seen waking up from a dream as 'To Be Continued' closes the visual.
Check out the video below.
Labeled the "Northwest's King of Soul," Andy Stokes has been sharing his soulful voice and undeniable musical mastery with the Northwest music culture for more than three decades. Already an inductee to Oregon's Music Hall of Fame, and a regular headliner at Paul Allen's New Year's Eve parties, the R&B singer continues to perform to sold-out crowds at iconic venues throughout the region.
As the lead vocalist with the legendary funk band Cool'R, Andy signed with renowned A&M Records, and toured worldwide as a featured artist with the likes of The Stylistics, Michael Bolton, George Clinton, The Temptations and many others. Now, the acclaimed singer has released his solo debut EP, Full Circle, which is available on all digital platforms.