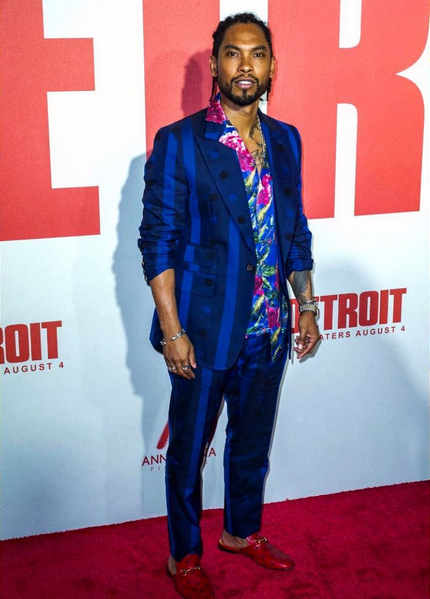 Are you ready for new music from Miguel??
We always are here at ThisisRnB, so it's exciting to hear the gifted artist reveal that he's itching to release material from his upcoming fourth studio album.
The singer/songwriter recently spoke to Billboard regarding his small–but important role–in the new film Detroit. Miguel portrays Malcolm, a band member in the iconic group, The Dramatics, a role he was surprised to land.
Detroit is a violent and provocative story surrounding events that took place during the Detroit uprising of July 1967. At this time, one of the Dramatics' key members was subjected to a torturous detention and interrogation at the city's Algiers Motel. "The notion that we've been doing some bad things to each other for a long time and it's still happening today…Hopefully this film can inspire more attention, the proper attention to be more cognizant of who we are to each other," said Miguel.

The L.A. native became familiar with The Dramatics through his parents, though he came in during the group's heyday in the '70s rather than the period depicted in the film. "They're one of the many amazing bands that were just giving us timely music," he said. "You gotta think about 'Whatcha See Is Whatcha Get;' Anybody knows that song. It's part of my musical tutelage, I guess, part of my musical heritage, one of the bands I go back to and listen to that inspired me to write songs that mean something much longer than I'll be here. I loved those groups — The Dramatics, The Temptations, The Delfonics, The Stylistics, all of 'em."
Aside from doing a few recent shows and collaborations, Miguel has been laying somewhat low since touring in support of his 2015 album Wildheart. He's working on getting more acting roles but he also has his fourth album on the way and says he's "really excited to release some music, like, really soon — like yesterday. I've been recording the past year and a half."
Sharing just a tidbit on what fans can expect to hear this time, Miguel said: "Well, my sound has always been really romantic but at the same time very honest and sometimes brutally honest. I say what we as men want to say and say what women respect us for saying. [Wildheart] was a lot more in-depth as to who I am and where I come from, so it'll be more of that, I think."
#CantWait #LetsGoMiguel