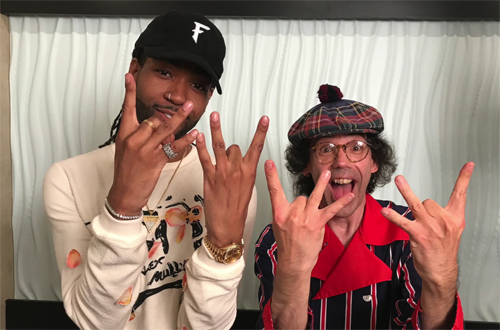 PARTYNEXTDOOR rarely does interviews, and almost never does video interviews. But, the infamous Nardwuar was able to secure some camera time with the R&B hitmaker during his recent trip to Surrey, British Columbia.
Following his performance at Fvded in the Park, the COLOURS singer had a fun-filled conversation with the eccentric journalist. He opened the interview by giving Party a vintage Jodeci 12″ for the song "Let's Go Through the Motions," off the soundtrack to the movie Who's The Man. Next, PND revealed that the first album he had as a kid was the soundtrack to Space Jam, which featuring the iconic R. Kelly song, "I Believe I Can Fly."
"I know the whole entire cassette," said Party. "That was the first cassette that I always used to carry around with me, and R. Kelly changed my life with that song."
Moving on they talked about his heritage, and the influence of Jamaican music in Canada. The vinyl gifts continued as they went through some historical records, and talked about PND's old neighborhood. Later, Nardwuar gave him the 12″ single for Divine Brown's song "Twist My Hair," which was Drake's first vinyl appearance, and the first time he worked with his longtime producer Noah "40" Shebib.
And, if you wanted to know how late a party can run next door to PARTY's spot, he said: "It would probably have to stop at 7am."
Check out the full rare interview below.