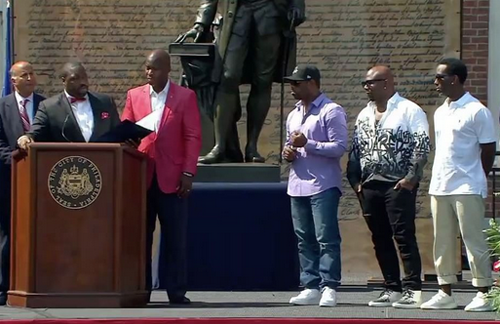 The July 4th holiday weekend was a memorable one for Boyz II Men.
On Monday (July 3), the iconic R&B group returned to their hometown of Philadelphia, Penn. where City Councilman Kenyatta Johnson presented a special citation to the group for their achievements in music and philanthropy.
"Growing up in south Philadelphia, these young men represented the epitome of success," said Johnson. "We watched them grind on South Street singing. So, as a young man I recognized that when Boyz II Men made it, the city of Philadelphia made it."
Formed as a quartet in Philly in the late '80s, Boyz II Men went on to become the highest-selling R&B group of all time, with an astounding 60 million albums sold. This past June, a section of Broad Street (from Christian to Carpenter Streets) in Philadelphia was renamed "Boyz II Men Boulevard." This section of the street is near the High School for the Creative and Performing Arts, where the members once attended.
See footage from the ceremony below.