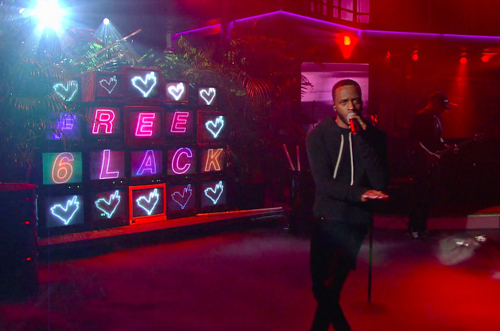 Atlanta's 6LACK brought his dark sounds to late-night TV on Wednesday night. Making his television performance debut, the singer/rapper appeared on "The Late Show with Stephen Colbert" to perform his buzzing single, "Free."
Taking the stage with his band and rocking a black hoodie, the rising star surprised many fans who didn't know that he recently shaved off his signature hair. Breaking it down over the eerie track he crooned to his lover. "You had just what you needed to be / Everything you want to be / But you'd rather run around these streets / And now you're feeling freer than you've ever been."
As he rocked out to the end of the song over the wail of the electric guitar, the TV screens behind him flashed 'Free 6LACK' and the camera was blurred with a colorful haze.
6LACK is clearly going in a new direction with his image, which will hopefully lead to more new music later this year.
Check out his performance below.