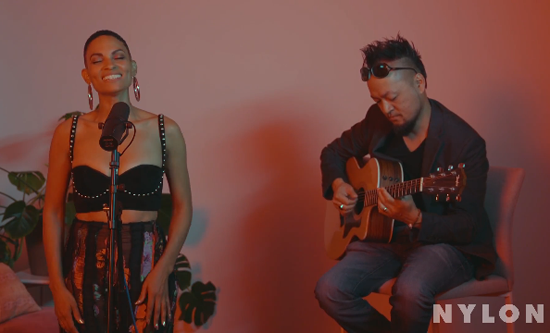 Soulful songstress Goapele is on the promotion trail in support of her new project, Dreamseeker.
The Oakland native recently stopped by the office of NYLON mag where she delivered a rousing and captivating acoustic performance of her song, "Stand." Backed by just a guitarist, the singer-songwriter sang the socially conscious lyrics with a soothing ease and stirring flight.
Following the performance, Goapele spoke about writing and recording the song.
"This song 'Stand' that I performed today, I started writing some years ago when Oscar Grant was murdered by the BART police in Oakland," she explained. "And you know, it's such a common story of how many African-American youth have been affected by police brutality or whose lives have been taken away, and, I really felt like, at this time now where racism is almost publicly accepted, and immigrants are being attacked, and women's rights are being taken away, it was time to finally put out this song and just say you know, what's my responsibility?"
Watch Goapele's special acoustic performance of "Stand" below.