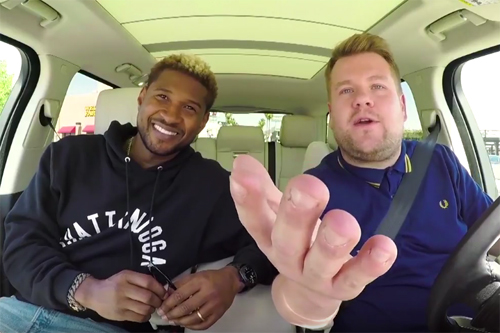 'Carpool Karaoke' is back with Usher!
The R&B superstar has been in the gossip news lately, but he switched the narrative today with his anticipated appearance on the famed Late Late Show series with James Corden.
Helping the late night TV host on his way to work, UR hopes in the Range Rover as they ride along to his classic hits including "Yeah!," "Burn," "Caught Up," "OMG" and more. During their conversation, Corden asks Usher to give him some dance advice on his club entrances. While driving by, the pair stopped at Usher's star on the Hollywood Walk of Fame. "I just find it odd. You work all of these years as hard as you can only to have people walk over you as a star," the singer laughed.
Later, Corden and Usher played good Samaritans as they got out and pushed a stalled sports car off the road. "I had no idea when I got in your car that I'd end up pushing cars or cleaning my star," Usher said.
While listening to Usher's "I Don't Mind," James questioned him on when the appropriate time is to refer to your woman as a 'bitch.'
Watch the full comedic sketch below!