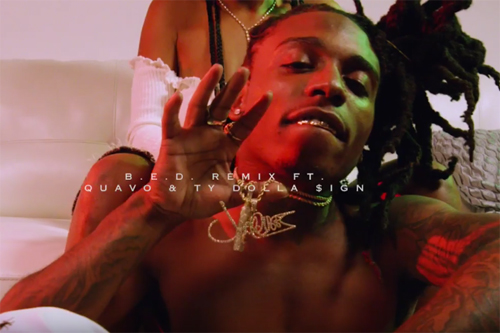 Pull back the covers and lay it down for Jacquees. The Rich Gang R&B star has finally delivered the anticipated visuals for the remix to his hit single, "B.E.D."
Quavo of Migos opens up the video filmed in the old-school VHS video effect as he spits his melodic verse sitting on his neon green Lamborghini. "She can sting like a bumblebee / But she rather be under me / We go to Barbados / We make a tornado / She f**kin up all the sheets," he raps.
Quees lounges at the crib while actress/singer Keke Palmer braids his hair and he sings his remix verse. "Remix on a biii / Quavo singing to a bitch / Dolla singing to the bitch / I'm Jacquees I'm tryin to hit," he sings. Later, he is seen laying in a bathtub with gold chains over his crotch in a recreation of a famous 2Pac photo.
Ty Dolla $ign joins Jacquees in a photo studio room with angled bars of light as he sings his provocative verse. "Know you wanna ride it / Know you want me deep inside it / Know I be strokin'," he sings. "Just might motor boat ya / Baby oil / Rub you down in baby oil / Now you shinin' / Look just like a diamond."
The video ends with Quees getting his wishes as his beautiful female co-star straddles him on the bed.
Check out the sexy video below.