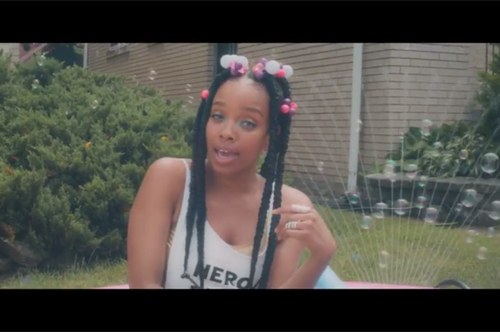 Chicago based songstress Jamila Woods brings fans a special visual for her infectious single, "LSD" featuring Chance the Rapper, off her acclaimed 2016 debut LP, HEAVN.
Shot in various Chi-town locations, the video opens with Woods wadding in the water of Lake Michigan, and then performing from a kiddie pool in a neighborhood. With bubbles floating around her, she sings about her love for the city and finding a relationship with love just as strong.
"My city, like my skin, it's so pretty / If you don't like it, just leave it alone / You gotta love me like I love the lake / You want to love me, better love the lake," sings Jamila.
Later, Chance shows up at a backyard party, manning the grill, while rapping about his daughter and love for the Chi. "I'm supposed to father my daughter / She the princess in the dragon's lair / And I'm the dragon slayer," he raps. "I can't fly away to some hideaway / I gotta find a way."
Previously speaking about her inspiration behind the song, Jamila explained. "When I was a kid, getting on Lake Shore Drive from the south side to go downtown was magical. I lived on the East Coast for a few years and people would laugh when I told them we have beaches and a lake we can swim in. I always wanted to write about that. A lot of people get Chicago wrong. I've developed this protective feeling about how we're portrayed, and at the same time I'm acutely aware of the issues we face and the root causes of these issues. It's important to me that there's not just one story told about our city. LSD is an ode to Chicago, a song for the complicated love I have for my city."
Check out the video below.
The video was directed by VAM Studio's Vincent Martell and Sam Bailey, but it was a high school senior named Ashley Huicochea who created the treatment. Now a graduate of Prosser Career Academy, Ashley also shadowed the directors during the video shoot.
Huicochea's treatment was used after she won a contest that was open to all students at Chicago Public Schools. Go behind the scenes of the process below.