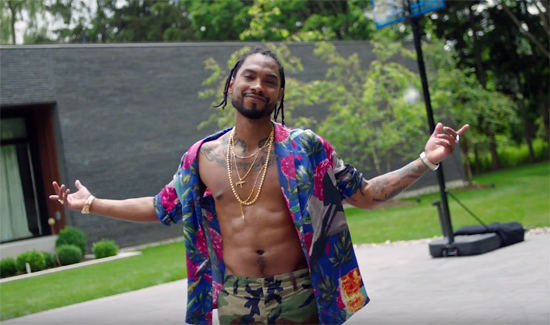 Miguel is living the high life in the video for his brand new single "Sky Walker" featuring Travis Scott.
From celebrating every day like a birthday to staying up so not to miss a thing, the R&B maverick lights us up once again with the levitating new jam. It's unknown if the song will land on Miguel's much-anticipated follow-up to 2015's Wildheart, but the singer clearly has much more to focus on.
"Luke Sky-walking on these haters / Celebrate everyday like a birthday / Good things come to those who wait up," he sings. "But don't wait to jump in too long / Don't sleep, you got to stay up."
After partying with a crew of young models, Mig Money is joined by Travis Scott in a room only illuminated by colorful neon lights. La Flame then spits his Auto-Tuned verse on the top of a cop car. "Wildin' on my haters / In my 23s, having a Jordan moment," he raps.
Miguel continues to party, catching a wave in the water with biking-wearing models, and taking shots with friends.
Stay up and enjoy the carefree moments with Miguel below.