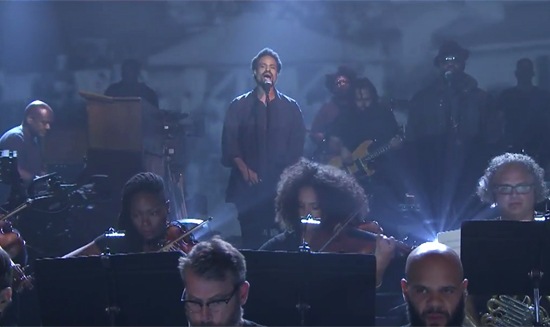 On Friday (Aug. 4), the film DETROIT was released across theaters nationally. The movie's soundtrack, produced by Motown Records, includes a powerful and soulful new song by Bilal and The Roots.
Last night (Monday, Aug. 7), the Philadelphia soul singer joined The Roots to perform "It Ain't Fair" for the first time live on "The Tonight Show starring Jimmy Fallon."
Joined by an orchestra consisting of wind, string and brass musicians, Bilal stood solo at a mic as he delivered nothing short of another vocally stunning performance.
"The well is running dry / Racial tensions are running high / Under 21 is far too young to die / My salvation's under fire / This makes the rising of the tide,' he belts out.
The lights then rose and Black Thought appeared next to Bilal as he ripped into his emboldened first verse. Trading turns delivering woke messages, the added orchestra musicians carried the emotions to another stratosphere, peaking with Bilal running off stage.
Check out the riveting performance below.