Chris Brown has put Kanye West on blast.
The R&B superstar is the latest artist to denounce Yeezy over his recent comments regarding slavery. On Wednesday (May 2), Breezy took to Instagram to post and delete his thoughts on the matter at hand.
"THIS MAN IS A COWN! OUR SONG JUST WENT PLATINUM BUT FUCK THAT," he wrote. "PLEASE BLACK PEOPLE… DO NOT FOLLOW THIS NI**A ON HIS PATH TO DESTRUCTION! WHATEVER HELP U THINK I NEED… GET IT FOR HIM ASAP! IMA FAN OF THIS MANS MUSIC SO WHAT HE SAYS IS LISTENED TO AND INTERNALIZED. WAKE THE HELL UP KANYE…PLEASE. SLAVERY WAS A CHOICE???????? What??????"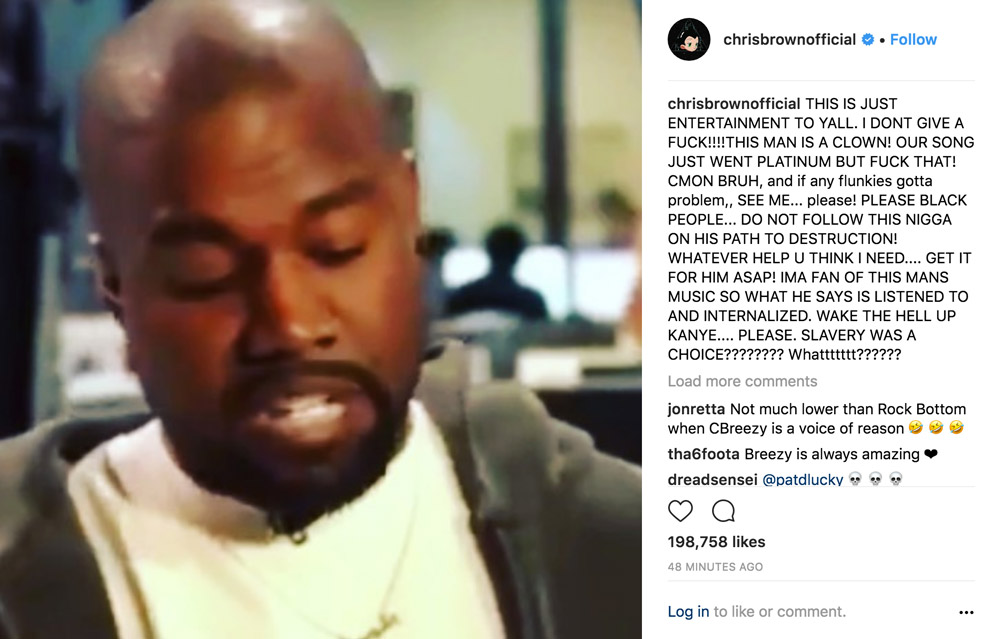 West tapped Brown to appear on The Life of Pablo's "Waves," which is the song he referenced in the post. It received a platinum certification from the RIAA on Apr. 19. The duo also collaborated on the remix to 2010's "Deuces."
In addition to their musical collaborations, West depicted a nude Chris Brown in the video for "Famous," which also featured the fake nude bodies of Rihanna, Taylor Swift, Ray J, Caitlyn Jenner, and Amber Rose, among others.
Kanye sparked outrage on Tuesday (May 1) when he spoke about slavery. "When you hear about slavery for 400 years, for 400 years? That sound like a choice," he told TMZ. "You was there for 400 years, and it's all of y'all? We're mentally in prison. Slavery goes to direct to the idea of blacks. Slavery, Holocaust, Holocaust is Jews, slavery is blacks. Prison unites us as one race…We're the human race."
(Top Photo by Larry Busacca/Getty Images)