As planned, Swedish-Iranian songstress Ayelle is delivering her dynamic, and exploratory 12-track mixtape "Nomad." Putting her fierce fusion of electro-pop and R&B on display, the New York-based artist sings about her unrooted, nomadic lifestyle. The journey includes her experience with growth, relationships, and self reflection.
It took Ayelle two years to write the project that's just under 35 minutes long. She said it's a collection of songs she's written over that time period while traveling every 2-3 weeks from places like London, New York, Los Angeles, Texas, Valencia, Barcelona, Bali, Cambodia, Vietnam, Stockholm, and Amsterdam.
She kicks the tape off with "Fast Life," her fifth single and it's about taking time to slow down in a world that's constantly on the move. The upbeat track will make you bounce but also soothes as she sings about her preference of staying home, reading a book and drinking tea as opposed to stepping out on the scene. She plans to drop a visual for "Fast Life," which was recorded in the apartment of Stavros, one of her producers.
ThisIsRnB first introduced you to Ayelle with one of her singles off the tape, "Effort." The track is about dating someone who's addicted to social media, and she tries to remain patient while hoping for a some effort in return. We also wrote about her fourth single, "Overtime." This track originated from her real life love story, putting in overtime to be with her lover who lives in another country.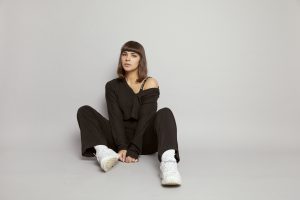 Speaking about her inspiration for the music, Ayelle said: "Throughout my life, I've never felt fully rooted anywhere. I grew up in Sweden and Spain, I'm half Iranian, I lived in London for 7 years and my family is spread across the globe."
She continued: "On my dad's side, my family comes from a nomadic tribe called 'Qashqai' and this resonates with me a lot as I can never seem to stay in one place for too long. Every song on this mixtape represents a part of that journey and something I've learnt about myself, or something I'm still trying to figure out."
Ayelle is certainly an artist making waves, and will impress you with her sweet tone and unique lyrics matching well with her production. Take a journey with "Nomad" below: