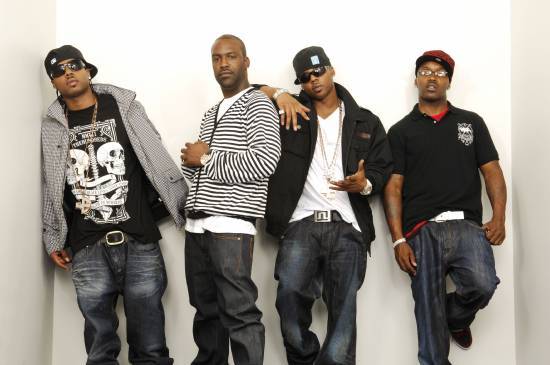 Jagged Edge members, Brian Casey, Brandon Casey, Kyle Norman and Richard Wingo are in the studio working on their new album entitled "The Remedy,' slated for a 2010 release, via Slip-N-Slide Records, and they hope to tap on old and new label mates, among others, for guest spots.
"What we want to do with this album is still be on that R&B tip, but with the help of a few hand-picked features," Norman tells Billboard.com. "So far we're in talks with Rick Ross and Plies. We talked to Jay-Z about doing a song on the last album, so we're going to try to pursue that again, and we've also been chatting with Snoop Dogg."
In addition, J.E. plan on having guest appearances from newcomers Jarvis and Chelsea, who are signed to the group's Five 81 Records. "Jagged Edge wants a new creation, a new birth. We want to bring a little light to what we've been doing for the past 11-12 years," he says.
As per the sound of the album, Norman says they won't stray too far from their traditional bedroom music. "I think no matter what we do, our goal is always to sing the hell out of a song. When that is the goal, that will lead to the bedroom anyway," he says. "Topic wise we are all over on this one – some sound more youthful, some more suggestive and some sound real classic, like the big ballads. If you look in the past, the ratio of power ballads was grossly outnumbered, but this album will be more balanced."

Initially signed to Columbia through longtime collaborator and producer Jermaine Dupri's So So Def imprint, the group recorded five albums there before moving to Island Def Jam in 2007 when Dupri made a move as the president of Island Records. They released 2007's "Baby Makin' Project," which sold 246,000 copies in the United States, according to Nielsen SoundScan.
Still, their short stint at Def Jam wasn't a pleasant one. "The Def Jam situation wasn't best-suited for us," he says. "When we went to Def Jam there were already issues between L.A. Reid and Jermaine Dupri, which we didn't know about. For Jermaine to take us from Columbia to a situation where we had to fight everyday, it didn't make any sense.
"We had our own issues with Columbia, but at the same time it was home for 10 or 11 years," he continues. "If you take us from that you have to prepare to fight for us."
That's when Slip-N-Slide CEO Ted Lucas came to the foursome with a deal they couldn't refuse. "We wanted to do individual projects, but Ted contacted us about a group project," says Norman. "He promised he would help us do our individual things afterwards. Also, this is a joint venture. Jagged Ede is signed to Five 81 Records, so we have more control."
Still, while Dupri won't have a hand in "The Remedy," Norman says their relationship is amicable. "We do feel the situation could've been handled better, but, there is no love lost for Jermaine. We wanted to get released from Def Jam and J.D. thankfully made that happen quickly," he says. Dupri was responsible for the group's No. 1 hits "Let's Get Married," "Promise" and "Where The Party At," featuring Nelly.
Additionally, Jagged Edge is in the preliminary stages of a reality show as well as a clothing line they hope to launch with their new label head, Lucas. Recently, they did an 11-city European tour and are planning to go on a dual tour this year with Rick Ross, Plies, T-Pain and others, as well as a "Battle Of The Bands" trek with Dru Hill, 112 and another as-yet-unannounced group.
via Billboard