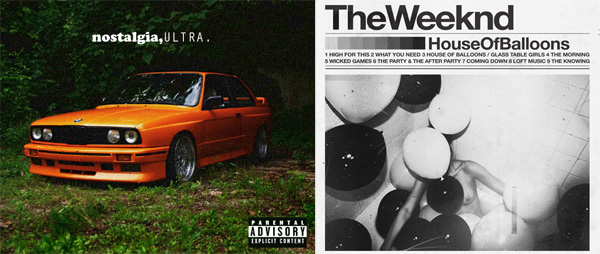 I've been having this discussion with myself for about 2 years now, and with the emergence of some new talents this year, fuel has been added to the fire. I was inspired by this recent piece on The AWL by blogger/writer Jozen Cummings that specifically narrowed in on Frank Ocean and The Weeknd (two emerging artists we featured this year). It basically discusses their artistry and asks the question, should they be considered R&B, and or, are they R&B artists at all?

A new term "hipster R&B" has begun to float around, and this really annoys me. Just as the term "hipster rap" did when that started being used. Hell, the word "hipster" irks me in general!
I'm becoming sick of simple genres, and the segregation fans and critics put on music. In 2011, when there is nothing new under the sun, except what is being devised in Apple's secret labs, do we still need to put a defining label on our avant-garde artists?
I'm also sick of all the consistent talk of "bringing the real R&B back" or "getting back to when music had feelings". Who are you people?? This is now the exact same closed-minded nonsense that was brought up about Hip-Hop when every 80's and 90's raised kid was going around saying Hip-Hop is dead, and we gotta get back to the "real hip-hop". Everything is cyclical, and the same goes for music. Not to get to far into the Hip-Hop discussion but the same facts apply to these ideas for R&B! Everything has been done! The genres are so large now they need sub-genres. If a form of expression doesn't evolve it will die. If you want to remain close-minded go right ahead, you will end up angry and bored. There is a reason we are so attached to the music we grew up on. Music affects us deeply; we attach emotion and experience to it. Whether good or bad, these experiences connected us to the music we were listening to, or heard first, during those times. So, the best artist, album or music is different to everyone.
Now if some music critic, blogger, DJ or record label exec wants to say, you can't call this artist R&B, or this artist is R&B, when you don't feel that way, ask them this, "does it really matter?" Certainly race should have no bearing on it right? Well, it probably does, but it shouldn't! R&B stands for Rhythm and Blues. In regards to Frank Ocean and The Weeknd, both black, singer/songwriters, clearly they make Rhythm and Blues music, but it isn't just that. This is where I bring the term "Alternative" up. Specifically they were influenced by Rock, Pop, Soul, Hip-Hop and they incorporate these diverse styles into their own unique works. Frank Ocean's mixtape/album Nostalgia, ULTRA is like the jambalaya of his Louisiana roots, and The Weeknd hails from Toronto, one of the most diverse cities in the world.
Today's crop of artists grew up in the era of MTV, and TRL, a platform for all genres of music to be heard. So what if it was considered only mainstream, kids got a taste of the basic spectrum, and then forged their own tastes. When DJ's like Mark Ronson, AM and Cassidy stormed the scene in the early/mid 2000's they foreshadowed a changing of music, and fan influences, by their diverse cross-genre sets and self-made mash-ups.
We may be witnessing the formation of new genres of R&B happening, and I applaud this. And it's not just with Frank Ocean and The Weeknd. If Chris Brown and Taio Cruz are considered only Pop artists, why is R&B their main inspiration? They have absorbed that influence, to create who they are as artists; and it isn't gone. Same with Robin Thicke and Adele, are they R&B or "blue-eyed soul"? That term is so unnecessary its absurd. How about newcomers, Mateo and Timothy Bloom? Their sound is eclectic, but it's also very influenced by R&B. Because they don't make the "typical" form of Rhythm and Blues should we totally cast them out of the genre?
We need change in genres to keep it fresh and exciting. How many times can the same sounds, cords, melody and lyrics be used before we are tired with it? I say listen to it all! Maybe you will be surprised you like something you didn't expect to. After all, we've all shared many of the same experiences. Maybe you will connect to something unexpected.
Now, What do you think?