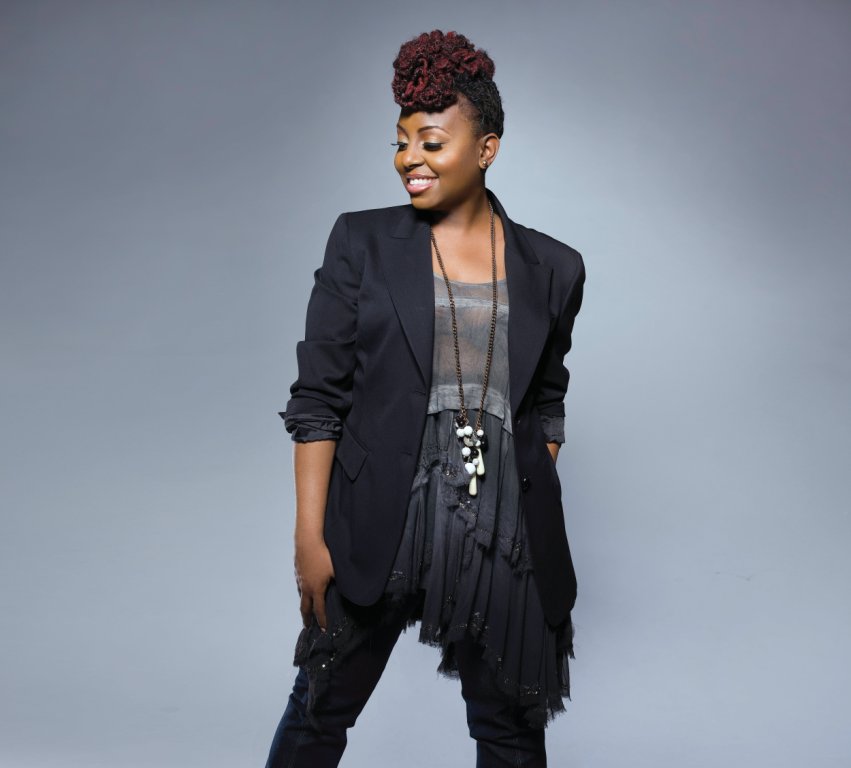 With her new album Pieces of Me, Ledisi undoubtedly proves that she is a woman to know. Loaded with emotion and charged with unparalleled soul, this record adds another dimension to the persona the singer has been sharing with audiences since her explosive entrance on the music scene a few short years ago. "Imagine some of the characteristics of Shug Avery from The Color Purple," Ledisi says playfully. "She is fiery, expressive, spiritual and uninhibited. Well, I would say this is my Shug Avery-like project," she adds with her trademark laughter. Anyone who's seen her dynamic live show or follows her on Twitter knows this lively and clever side of the singer and Pieces of Me delivers many more.
"This project is more layered," says Ledisi. "All of the songs reveal aspects of the confident woman I am becoming. It's a discovery of another side of me."
Following her last two critically acclaimed albums—2007's breakthrough hit Lost and Found, which was nominated for two Grammy® awards including Best New Artist, and 2009's rock & funk, attention-stealing Turn Me Loose, which also garnered two Grammy® nods and a No. 1 debut position on the Billboard R&B chart—Pieces of Me is a natural progression for a singer possessing an involuntary penchant for growth. Bursting with songs of love, intimacy and self-assurance and delivered by an unmatched voice at the top of its game, this album marks Ledisi's shining moment.
The poignant title track is an introspective look at a woman discovering her unique offerings to the world. Co-written by Ledisi and in-demand songwriter Claude Kelly (Fantasia, Carrie Underwood), she sings "Like every woman I know/ I'm complicated for sure/But when I love/I love till there's no love no more." "That's what a woman does," she states. "That is power and strength. It's okay to celebrate being a woman."
"So Into You" is a late-night groove with a sweeping sensuality. "I am addicted to how we make love/What you're giving me is never too much/It's like a carnival/And I'm ready now to go for a ride," she sings on the track she produced along with long time collaborate and co-executive producer, Rex Rideout (Luther Vandross, Kem, Angie Stone). "This song is very sexy and romantic," she offers, slightly blushing. "It's supposed to feel cool and hot, like Patron on ice!"
On "I Gotta Get To You"—produced by Ivan & Carvin (Jill Scott, Keyshia Cole) — Ledisi takes a 'by any means necessary' approach to getting to her man. "There is distance between us/making me feel like/I'm about to take a bus, plane, train or bike/Just so I can have you/right by my side," she sings with deliberate urgency.
"Coffee," an amusing, in-your-face, wish-list jam about the type of man she dreams of—crafted by veteran hip-hop/R&B producer KayGee (of Naughty by Nature)—displays Ledisi's more flirtatious side. "At first, I was freaking out because I did not think I could sing this song! But I realized that it's sassy and fun and I found a certain freedom in singing it. It's okay to express what you want and what you don't want."
"I Miss You Now," written for her by multi-platinum singer/songwriter John Legend, is a raw account of the aftermath of a breakup. It expresses what people oftentimes are unwilling to admit. Quite the opposite,
"Stay Together," a duet with Jaheim (co-written by Ledisi and Rideout), is an affirmation of commitment. As passionate as Rick James and Teena Marie's quiet-storm classic "Fire & Desire" and as joyous as Ashford & Simpson's legendary "Solid," Ledisi and Jaheim create their own timeless, feel-good embrace.
Demonstrating that she can be just as confident as she is loving, Ledisi flips the script on "Hate Me," a bluesy, juke-joint-worthy track, singing "I know it's hard to understand/Sometimes a woman wanna act like a man/And when it feels like I'm running things/I know you 'bout to lose your mind." "There is great honesty in this song. There are some independent women out there who don't need permission to be themselves. Writing this song helped me to be okay with the more dominant side of myself."
For Ledisi, it was a long journey to that "a-ha" moment.
Born in New Orleans and raised in Oakland, CA, where she says she developed ambition, drive and an appreciation for opera, gospel and R&B, Ledisi struggled for years. After constant rejection from recording companies, she and a partner formed their own label on which they released two independent albums, both of which gained national attention, resulting in her 2007 major label deal with Verve. Pieces of Me is a culmination of the challenges she's experienced and lessons she's learned.
"Before I started working on this album, I had to figure out what I wanted to offer, not only musically, but also spiritually, emotionally and intellectually. That meant I had to finally embrace the totality of me. Now, I see the greatness in me and that I have much to offer to this world."
Many of the songs on this album are evidence of this new attitude, including the barefaced "Shut Up," produced by Mike City (Bilal, Kelly Price). "I wrote this while driving in L.A., listening to the track which I'd had for two months. Someone cut me off on the freeway and I was irate. For some reason, I started thinking about what I wish I could have said to all of the people who said I was never going to succeed by being me. Now, I have a song for all of the naysayers."
Claude Kelly also lent his platinum pen to two other cuts, including the celebratory "Bravo"—which finds Ledisi declaring her new outlook on life—and "Shine," a celebratory ode to relationships. "This song is not about the obvious," she reflects. "It's not about one relationship, but many. It's a song I wrote for the people who help me be who I am today."
The uplifting "BGTY," co-written with Salaam Remi (Amy Winehouse, Jazmin Sullivan) and produced by Remi, is one of her favorites. "When I arrived to the studio, Salaam had already begun writing it based on the last thing I had tweeted to my followers earlier that day: "Be good to yourself."
"Raise Up" encapsulates Ledisi's entire message: "Time for you raise up/get up/stand up," she sings with conviction. "This was my mantra to rise above anything that comes against me. You have to stand up for what you love and for the person you want to become."
It is clear who Ledisi has become: a complex and colorful woman who is open, self-assured, creative, unafraid and, most of all, inspirational. Pieces of Me defines this moment in her life. "Recording this album was my therapy. Every aspect of it is who I am. But…not all of me…just Pieces of Me."
Get Ledisi's new single "Pieces Of Me" on iTunes Now.