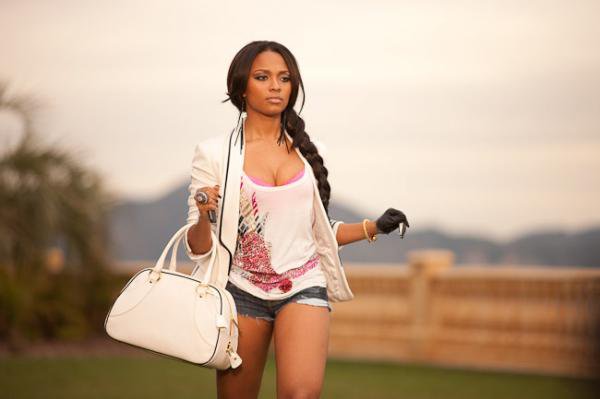 Rico Love believes in superstars, even if the rest of the music industry doesn't seem to think they deserve the title. Case in point: Teairra Mari. Last month, the hit songwriter had a studio session with the former Roc-A-Fella Records princess, sparking rumors that he had signed her to his Division 1 imprint. While Rico states that Mari is not one of the artists on his roster, he did reveal that he's executive producing her sophomore album because "she's a megastar."

"I love Teairra," Rico tells Rap-Up.com. "She has such a crazy personality. I love the youthful, urban bounce to her voice."
When the likes of Beyoncé, Usher, and Kelly Rowland are coming to Rico to write their hits, some may question why he's taken Teairra under his wing. The R&B siren, who's signed to Fo' Reel/Warner Bros., has just one album under her belt since 2005, and a handful of mixtape releases, but that's no reason why fans and critics should count her out.
"She's been through a lot," Rico explains. "She has a story to tell and I just want to show people that you grow. I think the consumer sometimes doesn't give the artist the chance to go through what they go through and to grow."
Public opinion is what makes or breaks artists in the music industry, but Rico isn't allowing others' negativity to cloud his vision.
"If I see something special in somebody, I don't care what everybody else feels about them," he shares. "I remember when I first started on Usher's album [and people were] like, 'Usher's over!' I'm like how is that even possible to say? He sold over 100 million albums. How is he over just because he had one album that wasn't as successful as the other ones? If I see something that I believe in, I'll work with an artist and I believe I could pull out the greatest in them. If it sells a million, I will love it. If it sells 20 copies, it's still gonna be the best I feel like I could've done at that time with that artist."
Currently, Rico is helping to craft Teairra's new album with a potential single. Bad Boy fans will recognize "All That's Me"—the song Rico wrote for the 23-year-old singer—as it samples one of Diddy's early hits. "I sampled the 'It's All About the Benjamins' record," he shares. "I really like it, I think it's a great song. Whether it's gonna be a single or not, I don't know. We just had fun with it. I would love to have a first single and all of her singles if I could, but we'll see what happens."
–Georgette Cline
via Rap-Up