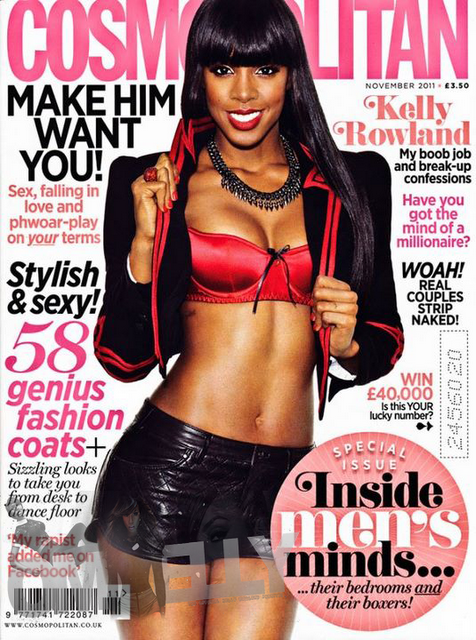 Kelly Rowland is covering the November issue of the UK edition of Cosmopolitan. In the interview Kelly talks about surgically enhancing her boobs after waiting 10 years to do so and being ready to speak to her biological father despite not seeing him in 20 Years.
The R&B diva is currently a judge on the UK's X Factor and their live shows start tomorrow. Check out the rest of Kelly's Cosmo photoshoot and some accompanying excerpts after the jump.
On her feelings towards her estranged father:
"I haven't seen my dad for almost 20 years. It's nothing I want a pity party for. He left me and my mum, and I was angry. I wanted to be a daddy's girl so bad. God damn The Cosby Show because that made me think 'Why aren't my family like that?' But this is not a perfect world".
On having a boob job:
"I said in an interview a long time ago that I'd get it done because I just had little nuggets for boobs and it was bothering me. The decision was 10 years in the making so I'm comfortable talking about it. It's something I really wanted to do for myself – not for a man, not for work, for myself… and I love them".
On why she broke off her engagement to American football player Roy Williams in 2005 when she was 24:
"I was too young for marriage,' she admitted "I remember my sister B [Beyonce] asked me one question: she said, 'Well, you know what you want now, don't you?' and I was like 'Yes'. It was so hard and embarrassing because everyone knew. I'd posed for the front cover of a magazine in my wedding dress and it was on sale! But sometimes you fall down and you learn from it".