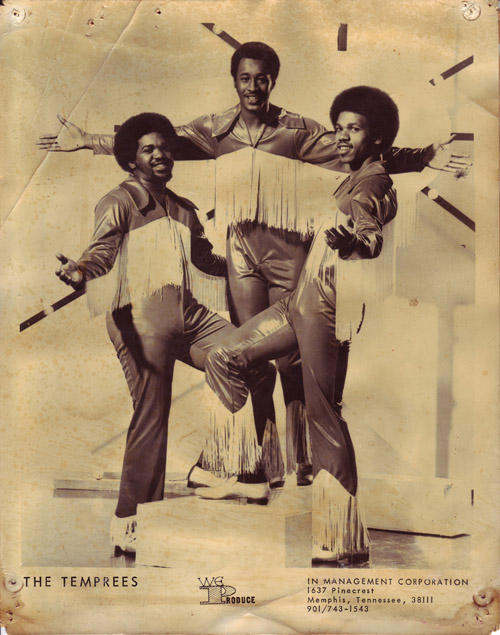 This week on "Sunday Soul," I bring to you a group that I've admired greatly since I was a young whipper snapper, per-say. They've delivered some of the smoothest melodies and deepest lyrics that even a kid could understand, and for you sample heads; thank me later.
Originally formed as The Lovemen, the trio – Jasper "Jabbo" Phillips, Harold "Scotty" Scott and Deljuan "Del" Calvin – met in the mid-1960s, when they were in junior high school,[1] along with Larry Dodson, future lead singer of The Bar-Kays. First signed to Stax Records in 1970, and later to Epic Records (a subsidiary of CBS), the band released four albums, Lovemen, 1974's Love Maze, Because We Love You, and 1972's Dedicated To The One I Love. Their catalog was later re-released on CD,[2][3][4] along with a greatest hits compilation entitled, The Best of the Temprees.[5] The trio's last hit was 1976's "I Found Love On A Disco Floor".[6]
The band reunited in the 1990s. Lead singer Jasper "Jabbo" Phillips died on February 21, 2001.[1] The Temprees' rendition of "Dedicated To The One I Love" was one of 50 songs featured in the double album box set, Stax 50th Anniversary Celebration in 2007.[7]
The Temprees – Dedicated To The One I Love
[audio:https://www.thisisrnb.com/wp-content/uploads/2011/10/01-Dedicated-to-the-One-I-Love.mp3|titles=01 Dedicated to the One I Love]
The Tempress – You Make Me Feel So Good
[audio:https://www.thisisrnb.com/wp-content/uploads/2011/10/10-You-Make-Me-Feel-So-Good-Baby.mp3|titles=10 You Make Me Feel So Good Baby]
The Tempress – You Make The Sun Shine
[audio:https://www.thisisrnb.com/wp-content/uploads/2011/10/Temprees-You-make-the-sun-shine.mp3|titles=Temprees – You make the sun shine]