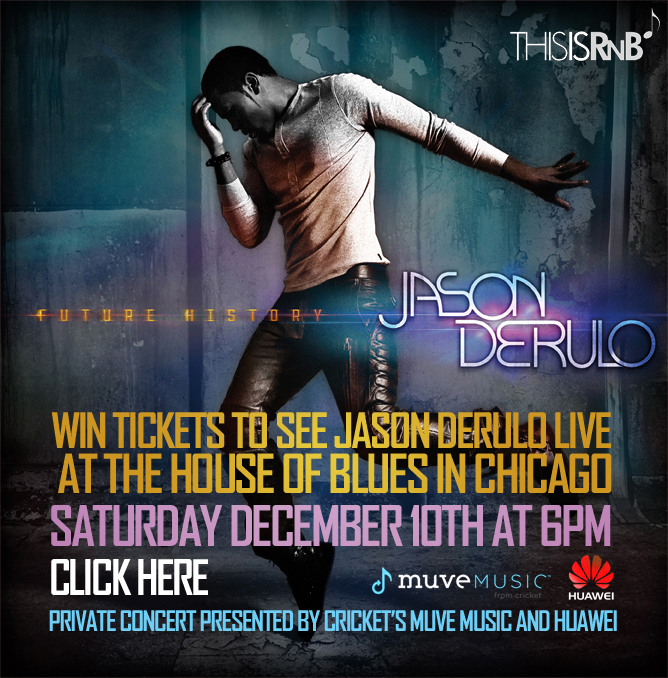 Want a chance to see Jason Derulo live for free?? We've teamed up with Cricket Wireless' Muve Music to offer a lucky ThisisRnB.com reader and one guest tickets to see Jason perform a private concert at The House of Blues in Chicago this coming Saturday, December 10th! This is a private event, the only way to get tickets is to win them!
Follow the jump for the contest details.
UPDATE: The contest has ended, the winner has been chosen and contacted.

Instructions
1. We have written out lyrics below to one of Jason Derulo's songs. All you have to do is name the song, email your answer to contest@thisisrnb.com, with the subject 'Jason Derulo'.
2. Leave a comment below saying why you should win, (not the answer). Make sure you use the same email address for your comment, that you email your answer with (your email will not be seen by your comment).
Terms & Conditions:
1. The contest starts today December 7, and will end December 9 at 10:00 AM EST.
2. The winner will be picked by random selection of the email entries.
3. The winner will receive 2 tickets to see Jason Derulo live at The House of Blues Chicago on Saturday December 10th at 6pm.
4. Transportation will not be provided, so only enter if you live in or around the Chicago area, and can provide your own transportation.
GOOD LUCK!!
Name This Song:
"I've been looking under rocks and breaking locks, Just tryna find ya, I've been like a manic insomniac, 5 steps behind ya, Tell them other girls, they can hit the exit, Check please… Cause I finally found the girl of…my dreams, Much more than a Grammy award, That's how much you mean to me."