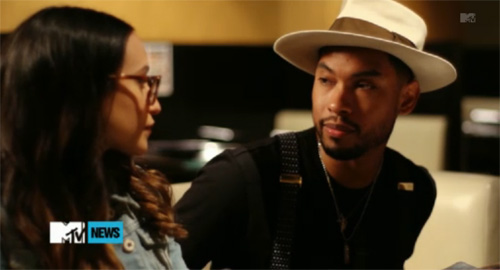 Miguel is the latest artist to partake in MTV's "First Date" series. The R&B crooner caught up with the networks Rya Backer for a daytime meal at NYC's 'Gyu-Kaku,' and chatted about his hometown outside Los Angeles, woman, dating, fashion, artistry and more. Read Rya's comment, and check out the clip from their 'first date' below.
The 25-year-old crooner showed up to our date dressed to impress: sporting tailored, jade trousers, a rust-colored coat and suspenders, Miguel's interest in fashion is evident upon first glace. In fact, he considers following it to be one of his prime interests outside of making music. His other non-musical hobbies remain creative: He cited iconic '80s artist Jean-Michel Basquiat as one of his greatest influences and photography as another passion of his, finding David LaChappelle's work especially compelling.

But like any artist, he hopes to inspire just as much: "I really hope to come to a place where I've achieved some kind of trust with my audience. The kind of trust that allows me some kind of influence … influence to effect some kind of social change."
Ladies, would you go on a date with Miguel?