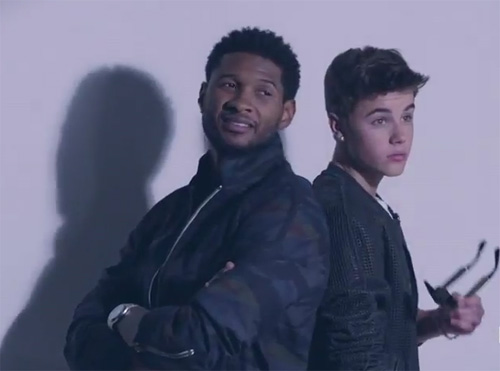 Billboard takes you behind-the-scenes of the photoshoot for their latest issue, featuring Usher and Justin Bieber. The young star and his mentor stand side by side, and pose by Justin's crazy, chromed-out Fisker sports car. Usher speaks about his flourishing artist and how far he has grown and will continue to improve.
"As I said in the beginning of his career, and as I still feel now, ya know the story has yet to unfold, it is a story that is his own, and as he finds his voice, ya know I think people will continue to see what it is that myself and Scooter Braun saw in him as a young child."
Both Usher and Justin are releasing new albums this June, with the R&B superstar's Looking 4 Myself coming June 12, and Bieb's much-anticipated sophomore set Believe hitting stores the week after, on June 19.
Check out the official footage below, and stay tuned.