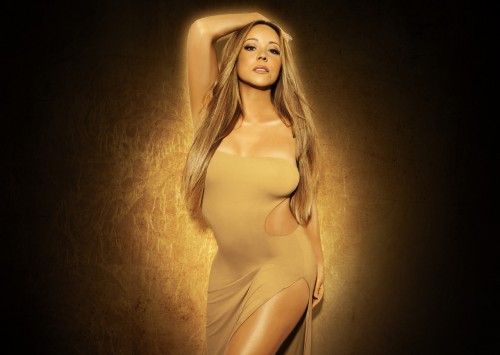 Mariah Carey made her official return to the airwaves on Thursday with the debut of her comeback single "Triumphant (Get 'Em)" featuring Rick Ross & Meek Mill. To jump start the promo Mimi held a press and DJ conference call in which she spoke about the song, her new album and answered questions. As many would be curious to know the diva shared her thoughts on R&B and its current state in the industry.

Our associates at ThatGrapeJuice, who were on the call have reported MC's sentiments:
"It would be incredible if we could bring that days when R&B records didn't have to crossover and just be hits on their own. I remember back when those records were the soundtracks of people's lives. I remember when I was pregnant with dem babies they only responded to the songs with the classic R&B feel. It just makes me sad that there are so many great R&B artists out there that don't get the chances that they should."
However, according to TGJ the icon also welcomed the possibility of collaborating with both Drake and Frank Ocean, and revealed how excited she was to work with 'industry shapers' such as Meek Mill.
Additionally Mariah revealed she has over 100 songs recorded for her as-yet untitled album, and Epic chief LA Reid will have a heavy hand in the creative direction.
[TGJ]