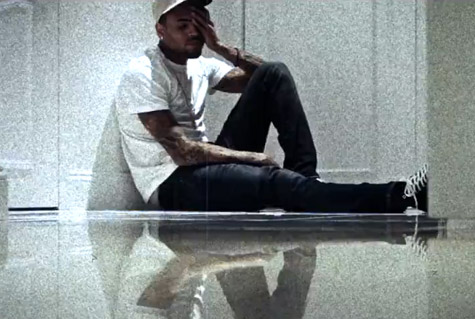 After publicly announcing his split from girlfriend Karrueche Tran, Chris Brown has opened up about his love triangle with Rihanna.
"Do you know Chris Brown????????" he asked his fans before posting a 90-second video entitled "The Real Chris Brown," which has been edited to include footage of him with both of his love interests.
A tipsy Breezy speaks candidly about his relationship status while driving through New York City. "Ya'll don't get the real Chris Brown, so I like to just be honest," he says.
"I'm stressed out. … When you share history with somebody, then you tend to fall in love with somebody else, it's kinda difficult," explains Chris. "Is there such thing as loving two people? I don't know if that's possible, but for me, I feel like that."
He continues, "I don't want to hurt either or. I'm just me. I'm not trying to be a player, I'm not trying to be a dawg. My mama raised me differently. I just care too much sometimes. A ni**a be stressing. That's what ni**as do. Life of Chris Brown."
Earlier in the day, Rihanna tweeted, "Ain't nobody bidness….. But mine and my baby!," a nod to Michael Jackson's hit "The Way You Make Me Feel."
After the video went viral, Karrueche responded. "Wtf is going on? All I'm saying is.. You don't mess with people's genuine feelings. You just don't!" she wrote. "Life moves on.. So let's all."
See the video below…
[RU]