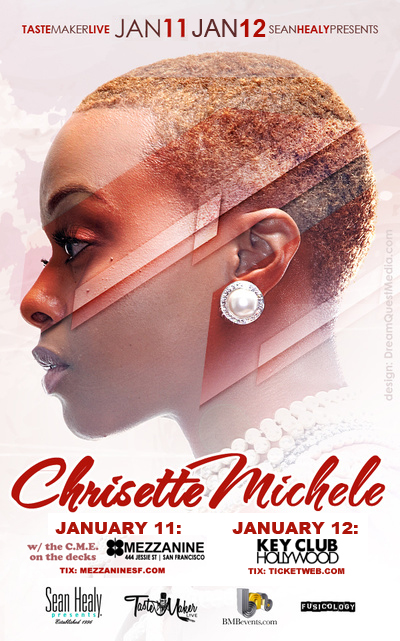 Chrisette Michele is on the road doing spot dates in promotion of her new mixtape "Audrey Hepburn," and early promo for her forthcoming album Better. The soulful songstress is heading out to the west coast this coming weekend for two shows. The first on Friday, January 11 at Mezzanine in San Francisco (doors at 8:30PM, Chrisette at 10:45PM), and the second on Saturday, January 12 at Key Club Hollywood in Los Angeles (doors at 8PM, Chrisette at 10:30PM), there will be opening acts at both shows as well.
For those of you on the west coast and near either San Fran or L.A., we are offering ticket giveaways to both shows. We have two pairs available for each night, so you can bring a guest. To enter the contest all you have to do is email us the answer to the question below. Send all emails to "contest@thisisrnb.com" with the subject line "Chrisette Michele," please be sure to list your full name and the city you wish to see the show in. Good Luck!
Question: Name three of the European cities Chrisette traveled to on her journey of re-discovering Audrey Hepburn?
UPDATE: Both lists are now closed. Thanks to all that participated in the giveaway. Congrats to the winners!