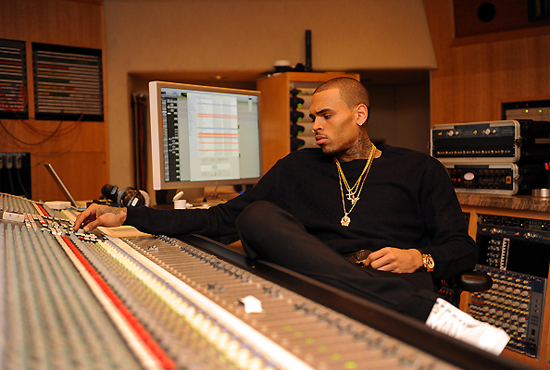 Chris Brown is looking to move forward and ignore the 'bullsh**,' with his upcoming album and state of mind. The R&B superstar recently invited MTV to a private listening session for tracks off his upcoming album, which is officially titled 'X.' Brown was in very positive spirits as he broke down his new state of mind, and explained his mentality going into making the new album.
"The song and the album title 'X' has a couple different meanings," he explained. "It can refer to an ex-girlfriend, in terms of you always look forward to moving forward from. It's also about being a reject in a sense. In me being myself, being able to grow up, me not always hanging around the right crowd or doing the right thing all the time — it's me saying, 'I'm over it. I'm past the bullsh– now.' "
The 23-year shared info on some new songs, including the upcoming first single "Fine China," he also revealed he has a 'good-weather' feel-good song with Kendrick Lamar, and spoke about his transition into being a singer/rapper.

On "Fine China" and the album:
"For the first single, I wanted to go more nostalgic, bring Stevie Wonder, Michael Jackson, Sam Cooke to it, but also bring a new sound to what my audience and fans are listening to," he said. "For this album, I wanted to have the same mentality as I did with the first album — me being green, me not thinking I know what's hot and what's next, me just being Chris Brown. I think this will show my vocal ability a lot more. I've developed a falsetto, I can sing at a higher register, and I can elaborate more on my skill."
On his foray into rapping more:
"It's funny, because I tried to get my record deal as an MC first, and when they heard me sing on the choruses, they wanted me to sing," he said. "You don't want to say something another rapper has said or come off like you're trying to produce a punch line. It's about being a lyricist and being clever about what you say. I don't try to spit the hardest sixteen's, it's just me being clever with my poetic side, that's where it derives from."
While he kept the majority of his new collabos under wraps, Brown revealed that Kendrick Lamar will lend a verse to "Autumn Leaves," one of the smoothest songs on the album.
"If you're in your car just riding, it's perfect. It just feels like a weather record — an emotional record," he said of the slowed-down selection with a bass line that sounds like a heartbeat. "I feel a certain way when I hear it."

"Add Me In" is a cute, clever offering that makes mathematics a metaphor for love. "Your love is trigonometry/ Just trying to solve the whole equation," he sings on the track. Produced by Danja, it's more of a throwback with an industrial sound that Brown calls "old-school with a new-age feel."

Produced by Diplo, the title track is an enigma from the start, blending 808s with a trance-like, dubstep buildup. "If you're only as good as the company you keep/ I'll keep my secrets in a safe house," he coos before the building beat drops and he declares, "I swear to God, I'm moving on!'

"It's a pop song, but it's still hip-hop," Brown said of "X." "Pop producers added hip hop to it to make it more epic."