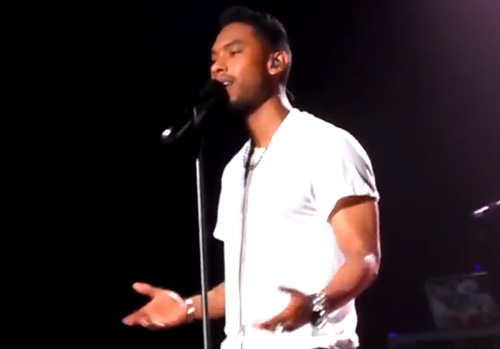 As Miguel warms up to hit the road with Alicia Keys on the "Set The World On Fire" Tour, the Grammy-winning singer traveled to South Africa for the first time this past weekend, and it changed his life.
Performing at Johannesburg's Ellis Park Indoor Arena, the R&B maverick was 'adorned' by thousands of fans when he arrived at the airport. Following his performance he spoke with local press about his first experience performing and interacting with fans in  South Africa.
"Everyone has been exceedingly hospitable. The people here are really sweet and I appreciate it," said the singer. "The highlight so far has been getting off the plane and seeing so many people at the airport knowing the music, and singing it to me, screaming out my name. I just said to myself, 'oh wow'," Miguel told the Sunday Independent. "You come to a completely different continent for the first time and people know your music, it is pretty cool. It's humbling."
After the show, Miguel took to Twitter, describing the experience as being life changing.
"Johannesburg you were FCKNG AMAZING last night. Thank you for making my first show in SA unforgettable. SA has been life changing. Thank you for being My People. Honored," he wrote.
Watch some clips from his performance below including "Pussy Is Mine" and "Sure Thing."