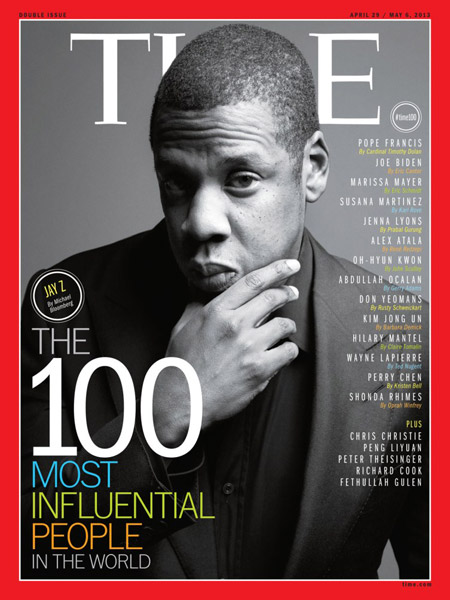 Who's still saying R&B is dead?! TIME magazine has unveiled their coveted annual issue of the 100 Most Influential People In The World, and some of your favorite artists have made the list!
Along with Jay-Z, who landed one of the multiple covers, Beyoncé, Justin Timberlake, Frank Ocean and Miguel have all been included in the honorable accolade.

The music superstars join activists, reformers, researchers, and heads of state including President Obama, the Pope, Steven Spielberg, and LeBron James on the TIME 100 list.
Baz Luhrmann had glowing words to say about Mrs. Carter. "When Beyoncé does an album, when Beyoncé sings a song, when Beyoncé does anything, it's an event, and it's broadly influential. Right now, she is the heir-­apparent diva of the USA—the reigning national voice," wrote the The Great Gatsby director.
In his letter, John Legend champions Frank Ocean, who made headlines with his coming out letter. "The day the letter was published, he came over to my house for a July 4 barbecue, where he was among friends who supported him and showed him love," said Legend. "I think Frank's career will be defined by his fearlessness and his artistic freedom."
Miguel is praised by TIME's own music critic, Douglas Wolk, who stated. "The survival of the black pop tradition isn't just a matter of preserving its history — although Miguel does that too: the soul seducer's Grammy-winning hit single "Adorn" ingeniously evokes Marvin Gaye's "Sexual Healing" and "Let's Get It On." What has nourished that tradition over the past 70 years, though — what has kept it not just alive but thriving — is what makes Miguel's recent music so special: constant innovation, formal daring, unexpected sources of inspiration, and emotional directness.
And Justin Timberlake gets props from the legendary Stevie Wonder. "He has a spirit. He does God's work through using the most of his talent."
See the full list and read more on TIME.com.