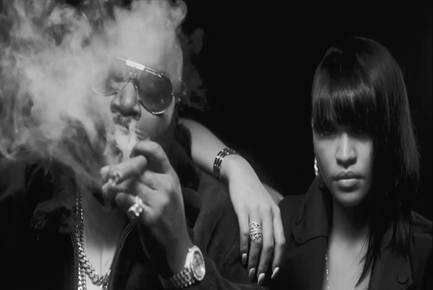 Cassie is hoping to reignite some attention to her music career with the upcoming mixtape 'Rockabyebaby.' The model/singer has released the first visual off the project for "Numb," her new collaboration with Rick Ross.
In the Alex Nazari-directed clip, Cassie takes a walk down Hollywood Blvd., strolls on the beach at sunset, and cruises down a dark road at night.
RockaByeBaby drops April 11 featuring a ton of rap features, including Meek Mill, Wiz Khalifa, Pusha T, French Montana, Too $hort, Fabolous, and Ester Dean, plus production from James Fauntleroy, Rob Holladay, Da Internz, Young Chop, and Mike WiLL Made It.
"This mixtape is about more than just music, it's about the art, the visuals and the people," said Cassie. "I wanted to release RockaByeBaby to show my appreciation to the supporters that have been there from day one and always believed in me and my art. My goal was to make a tape that you could vibe too and that people could enjoy from the beginning until the end. I want this to be what you listen to when you need to escape."
Watch the "Numb" video and see the tracklisting below.
RockaByeBaby Tracklisting:
01. Intro
02. Paradise feat. Wiz Khalifa
03. Take Care of Me Baby feat. Pusha T
04. Addiction feat. French Montana
05. Numb feat. Rick Ross
06. Sound of Love feat. Jeremih
07. I Love It feat. Fabolous
08. RockaByeBaby
09. I Know Whatcha Want
10. Turn Up feat. Meek Mill
11. Do My Dance feat. Too $hort
12. Bad Bitches feat. Ester Dean
13. All My Love