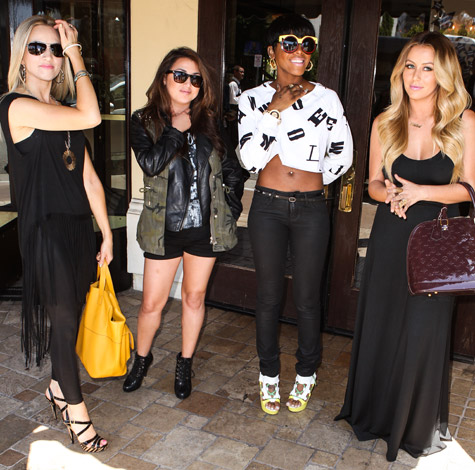 Interesting…Are the ladies of Danity Kane considering a reunion? Rumors are floating around that the girl group are reportedly getting back together…

TMZ's cameras spotted four of five members, Dawn Richard, Aubrey O'Day, Aundrea Fimbres, and Shannon Bex (D. Woods was absent), having lunch with a new manager at The Grove in Los Angeles on Monday.
Sources tell TMZ that a reunion is definitely happening. The ladies reportedly plan to record and tour under the name Danity Kane, but Diddy won't be involved this time.
When asked if they had told their former Bad Boy boss about the reunion, Aubrey responded, "Who's that?"
The group, who was formed by Diddy on MTV's "Making the Band 3," released two platinum albums, 2006's Danity Kane and 2008's Welcome to the Dollhouse. They disbanded in 2008 after Diddy kicked them off his label (Only Dawn was left standing).
The ladies still kept in contact throughout the years. "Most of us all stay in touch and talk all the time," Aubrey told Rap-Up TV in 2011. "I would love to bring it all back and get all the girls back together and have another little Danity Kane moment in life."
Dawn Richard is still pursuing her solo career, with her debut album Goldenheart released earlier this year, and the follow-up in the works.
[Rap-Up]