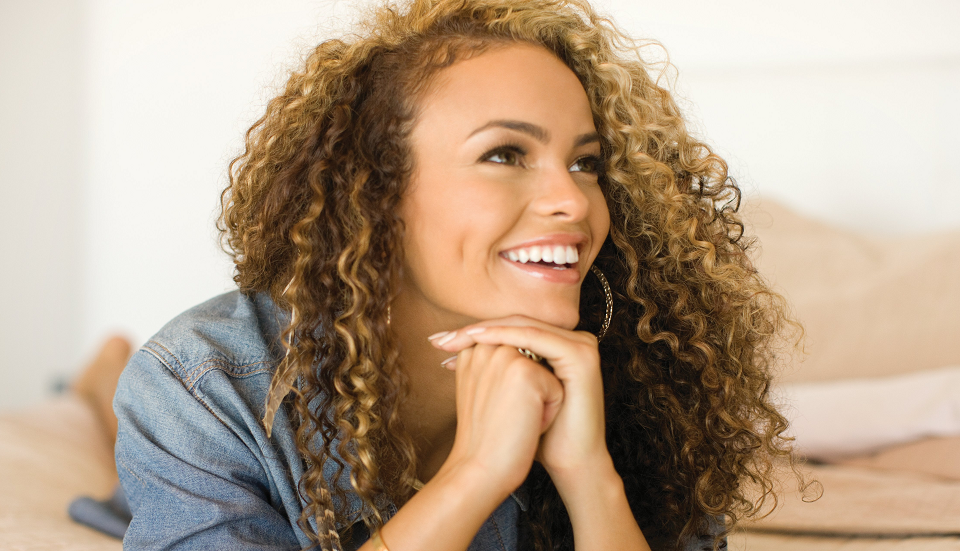 Throughout the years of music one thing that we have noticed that's difficult to accept is change. When artists who have longevity with their music decide to try their hand at something different, we often have a hard time taking it in. In some cases we welcome it with open arms, but in others, we hate it.
This situation is no different for new artists coming in. With an industry that is always changing, it's even more difficult for new artists to erupt onto the scene and break barriers, as did those before them. We all know how tricky and judgmental the rap industry is, but the same – if not more – can definitely be said for the R&B genre.
One artist who is doing a good job at defying the laws of acceptance with her diversity is up-and-coming songstress, Starshell. Signed to Mary J. Blige's Matriarch record label, the gorgeous singer and songwriter has penned and co-penned tracks for an impressive roster of artists which includes Kanye West's "Love Lockdown" and Mary J. Blige's "Closer".
Now, with her debut album Liberation slated to be released in the latter portion of this year, Starshell has been making even more noise than before. This Is RnB recently caught up with the Superluva singer to discuss her upcoming album, what's next for her and the recent release of her new Birthday Girl clothing line.  Check out the interview below:
How did you get started with your music? 
I've always been really into the arts – music, acting, and entertainment in general – since I was about 5 years old. I was on the Disney Club and all kinds of fun things like that since I was really young. That was always a passion of mine. When I lost my sister to suicide when I was 12, I actually then spiraled into this kind of shell where I was completely creative. I wrote more poetry than I really spoke and started turning my poetry into music. When I went to college, I started meeting a lot of people who were in the music business and trying to break in. I teamed up with them and we formed a writing team and a group where I would sing little hooks and write for everybody. I recorded a demo while I was still in school in DC and after I recorded my demo, I was shopping [my demo] and landed it in the hands of Kendu Isaacs – who is Mary J. Blige's husband as well as her business partner at Matriarch Records. He introduced me to Mary the very next day because she was working on an album called Stronger With Each Tear and they needed writers. He asked me who had written all of the songs on my demo and I told him I did and I had recorded it on my laptop. So, he thought that was impressive and that my writing was great. At first, the interest was in my writing although I was an artist the whole time. I met Mary and we hit it off like, oh my God, we were sisters from another mother – it was crazy! At first, I was really, really nervous, but because I had been through so much – you know, being on my own since I was 16 and I had lost my sister a few years before that – there was so much turmoil that we had connected on a human level more than on a musical level. When you connect with someone on a human level like that, you're then able to appreciate their art much more. I started writing with her while she was in the studio with Marsha Ambrosius from Floetry and we actually wrote like 10 songs together. Two of them ended up on her album and one of them ended up on the Precious soundtrack, which is called "I Can See In Color".
How did you transition from being behind the scenes to performing?
While I was writing for her – you know, the business is like a small high school, people start to hear about you and start to know your name – I ended up in the same studio as Kanye West and he decided to put my writing to the test. I ended up writing "Love Lockdown" – this is all before I was signed, so it was all like I was proving myself. A year passed and I finally started to express my interest in the performing aspect of being an artist. So then they brought me to Jimmy Iovine of Interscope and he signed me right on the spot. It was crazy! It sounds almost like a "too good to be true" type of thing, but it happened. When it's right, it's right. That was also a big, crazy mission after that – to figure out what is my sound. My whole thing was I liked Alanis Morissette and I like Mary J. Blige growing up. I like Jay-Z and I like Daughtry. I feel like I grew up in a more eclectic musical style – those people in my same age range and have that same sound. Unfortunately, labels are unable to grasp that at first because they want to put you in one genre. You know, are you R&B, are you Pop? What is your genre? So for me, it's taken me this much time to really show them that I am an eclectic artist that just has music that I want to give to the people.
You're still signed by Matriarch and your new album, Liberation is slated to come out this year, correct?
Yes, that is correct. It's slated to come towards the end of the year.
Great! Do you have any features on the album and what's the technical lead single coming from it?
Right now, I have a song out called "My Star". It was written by Ne-Yo and myself so that's the single we're pushing right now. I actually put it out in honor of my sister, Starshell. My sister's name is Starshell – I adopted the name in 2010 as a tribute to her, her life and her memory. The song "My Star" is out right now and the record company is behind it. They kind of want to just let people get the record for what it means which is love, dedication, honor, memory of someone lost or just someone you admire. "My Star" represents all of that depending on who is listening. So, Ne-Yo is on the album, some great producers like Fernando Garibay – who produced all of Lady Gaga's last album, Danja produced something, Jermaine Dupri did something for the album and Kanye West and Big Sean did a remix to "Superluva" for the album. That was kind of cool because they just did it. They liked the record so much they wanted to remix it. So yeah and I'm still working. Every day I'm in the studio coming up with new stuff. I'm just trying to put it together as beautifully as possible.
Do you have plans to release perhaps a mixtape prior to the release of the Liberation album?
No. You know, we live in a world where people just want music and singles. I really do appreciate albums and I appreciate people putting together albums in the form of a story. So, I'm kind of taking my time just like an author would when writing a book to tell my story through my album. So, I won't be putting out a mixtape.
Totally understandable. I think the anticipation for your album will grow more with the date being around the corner. Speaking of new releases, I know the launch of your new line Birthday Girl happened last week. Tell us a little more about the basis behind it. 
Yes, it launched! I have a song called "Birthday Girl" and I wrote the song while I was sitting on my couch planning my birthday party three months in advance. This is typical of girls. You know, what do we do on our birthday? We say, 'oh no, you better not step to me on my birthday – it's my day. You better not tell me I can't do something because this is my day. I don't care if you're my parents, my friends, my boyfriend or even a child – it's my day!' So I was like the women need a birthday anthem. We need a song that's just about us on our birthday. Then I took it one step further and was like, 'wait, why is it only once a year that we get to celebrate us? That's kind of foul. We should be able to celebrate our birthday and birth every day'. You know that feeling you get when you wake up on your birthday? That feeling that you're floating on air? That feeling like this is the sh*t, this is my day? Why can't we feel that way every day? It was just a theme of celebrating life. Once I lost my sister, I just realized life is too short to be down on yourself, hard on yourself or just miserable. I wrote the record and it came out exactly like I wanted it to be in my mind. When I went on tour with Jennifer Lopez and Enrique Iglesias, I had these shirts and this clothing made for my dancers and for myself just to embody the entire movement. I was sponsored by Ciroc because they loved the movement. While I was on the road, people loved it – they loved the clothing and wanted it! So, by demand, I actually got some shirts printed up while I was on the road and they sold more than the merch of the bigger headlining artists on the tour. So, I just thought that this was in demand and something that everybody wants to do too – they want to live life and be fun, spunky, vivacious and just everything that this line represents. Then I decided, I should officially launch it and went with Kickstarter because it has been amazing for up-and-coming people who are just starting. It kind of just happened by accident, but I'm very confident that once people understand the line and the meaning behind the line, they will get fully onboard.
That's amazing to hear! I know that you have a lot of neon and bright colors with the line so what was your idea behind not creating a more subtle approach? 
There is no subtle approach in stepping out there and being the birthday girl. Whenever you're the birthday girl, you're wearing the tiara, you're wearing the birthday dress or you're wanting all lights on you. So I wanted it to be bold, fun, and vibrant which is why I went with those colors. It just so happens that now, those colors are in vogue – they're in style now. I had been doing the neon's for the past two summers now – even in the "Superluva" video, I was wearing like a neon pink top. Even stylists were like "that's some 80's sh*t," but I love the 80's – I love it! I was blessed to be ahead of the curve when it came to that [laughs].
[Laughs] It seems as if the neon's aren't going away any time soon.
Yeah, you know I'm all about staying ahead of the curve. As a line, I plan on growing and getting other designers to work with the line so that we can always stay ahead of the curve and style as far as setting the trends.
That brings me to my next question. I know you have the shirts and the ladies line of boy shorts, but what else do you plan to bring to the line in the future? 
Well the shirts are available and some short and shirt sets are available right now and like you said, we have the boy shorts. We plan on expanding into sweatpants and sweatshirts; we have loungewear and anything else you can think of for loungewear. Whether you want to feel sexy, hang around the house, go to the grocery store, or if you feel like going out and throwing on your shirt with a pair of jeans – we plan on expanding the line a lot further.
How do you plan on tying in the release of your upcoming album and the line? Are you doing any more steps to promote the line and album together? 
The funny thing is, I feel as if the line has a life of its own. My album, my songs, my line – they all have one thing in common: they're all about liberation and celebrating life and having that movement evident. I feel like the line in itself is going to take on a life of its own. It's going to be leading up to the album and way after. Leading up to the album, I'll do a lot of promotion for sure. I'll have shirts available and I'll be promoting, but ideally, I want to have the line running as its own well-oiled machine. Meanwhile, I'll work on this album and the next, next and next. I want them to be running parallel to one another.
For the future, who would you want to see in your line? 
I would want every girl that shops at Victoria Secret to wear my line. For my fans and everyone supporting my movement, we just need to create a buzz around this and create some noise. Once we create some noise, people will be reaching out and wanting to collab, so that's what I'm looking forward to – absolutely.
Check out the video to Starshell's "Birthday Girl" below and you can peep visuals for her Birthday Girl line as well. To check out her campaign on Kickstarter, click here!
Interview and words by Ni'Kesia Pannell