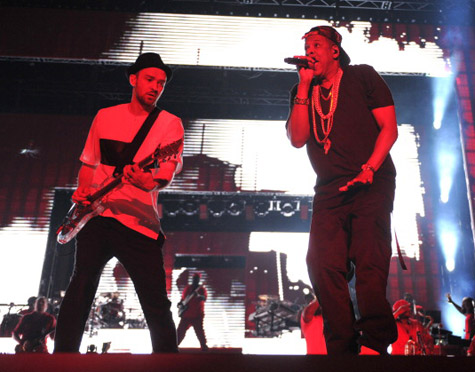 Justin Timberlake and Jay-Z touched down in Toronto for the first stop of their "Legends of the Summer" stadium tour on Wednesday. Following their performance at the Yahoo! Wireless Festival in London, the rap and pop kings brought their co-headlining tour to Rogers Centre.
They opened the sold-out show with their latest collaboration "Holy Grail" off Jay-Z's Magna Carta Holy Grail, which debuted at No. 1 this week. Backed by JT & the Tennessee Kids, the superstars took turns performing solo and together throughout the entire night.
Jay-Z delivered his classics and new material including "Big Pimpin'," "Izzo (H.O.V.A.)," "Tom Ford," and "Empire State of Mind," which received a Frank Sinatra "New York, New York" intro from JT.
Fresh off his six nominations at the MTV VMAs, Justin populated his set with old and new hits including "Like I Love You," "SexyBack," "Cry Me a River," "Mirrors," and his new single, "Take Back the Night."
They changed into suit jackets for the encore of "Suit & Tie." While Jay sipped champagne, they asked the crowd to light up the venue with their cell phones and dedicated "Young Forever" to Trayvon Martin.
Check out photos and footage from opening night below:
[
Rap-Up
]