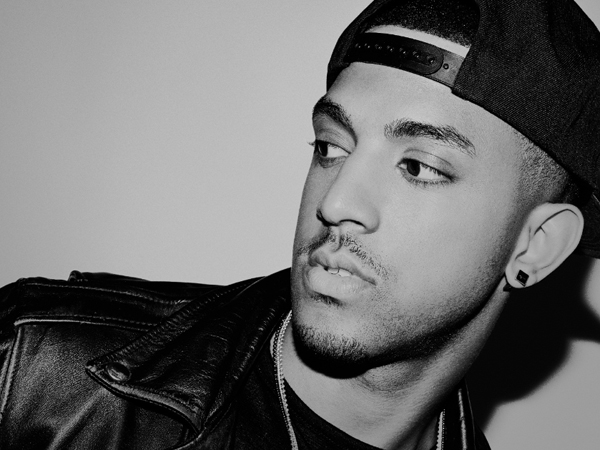 If you ask most artists about their transition into music, they will usually tell you that it started from their childhood and they saw themselves doing nothing other than singing for their lives. Very seldom do you get the artists that tell you they tried to go against their dreams and do what seemed to be right to make a living or career out of it.
However, the aforementioned is exactly what you'll hear from R&B singer/songwriter, Mateo. Born into a family of musicians, the Morehouse graduate didn't always put music on the forefront. Keeping it as a side hobby, he pursued his career in business. It wasn't until after he obtained his college degree and relocated to New York for a job opportunity, that he realized it was time to take his musical aspirations off the back burner and do what he was destined to do with his life.
Signed to Krucial Noise/Interscope Records, Mateo is now ready to really buckle down and give the world a piece of music that we've been missing. From his impressive collaborations to the anticipation of the new EP and debut album, Mateo has been grinding it out to make sure he leaves his mark on the industry. Taking some time to chat with ThisIsRnB, we got the chance to speak with the singer about his upcoming EP and forthcoming album, the state of R&B, and how what he wants to be remembered by.
Check out the exclusive interview below:
How has everything been with you? What have you been up to lately?
I'm doing good – today is my chill day so I'm trying to catch my breath. Chilling and eating a bowl of cereal [laughs]. Well of course, we have the single "How Good Is Your Love" and an EP that drops on August 13 [today!] – which happens to be my birthday, actually – so, I'm excited about that. So that's dope. We got that coming out and I'm really excited. It's a great project because not only do I love the single and it's one of my favorite songs I've ever done, but the EP is also kind of like the appetizer to the full length album that's coming out next year. I just love the type of music we've been doing and it gives people a kind of revealing to what the album may sound like. We got the video that we put out – it's on VEVO right now and we'll probably see that up on VH1 really, really soon. So we got some cool stuff happening – I'm excited.
How would you say your sound has changed or how your music has progressed since the release of the Love and Stadiums EP?
It's a lot of similarities to it, but there are also differences. With the Love & Stadiums mixtape, it was very…it was a mixtape, so there were some original pieces in there and then some songs that you knew from before and this one's pretty much all original – which is the difference. But the one thing that's similar is that I've always been a fan of big arena – stadium sounding music. I always felt that R&B and Soul music really didn't have [that]. You have the stuff that'll make your head knock, but not the stuff that takes to you this euphoric place where it makes you want to just scream it out and sing it in an arena type feel. So, we basically brought that feeling over from Love & Stadiums to this project, But most importantly, I think the difference is the content. A lot of times, I used to focus on what it took to make the best love song. Like I wanted to make the dopest love song ever written. But now, I'm trying to make the best life song. I'm trying to really, really talk about stuff that people go through on a regular basis. Whether it be the struggles of love, the struggles about pursuing your dreams or doing what you want to do, all of the things that just really, really matter to people. That's what I really wanted to focus on.
Where would you say you pull some of your inspirations from?
A little bit of old school and a little bit of new school. I mean, it's definitely the stuff when you were a kid that your mom listened to when you were in the car and you couldn't turn it off. So, of course the Stevie Wonder's and the Donnie Hathaway's – Whitney Houston, back in the day – but also, Lauryn Hill is a big influence. Definitely Kanye West. One of my favorite, favorite bands is Coldplay. You can kind of hear the influence – kind of alternative rock influence from Coldplay mixed in with R&B and Soul. That's what the main influences are.
Would you technically deem your sound as R&B then or do you have a certain title for it?
I think it's R&B. I feel like it definitely is because it's still soulful. I think that what we do is we usually try to infuse it with other genres. Like in an electronic sense or Coldplay/U2 drums – you know, try to mix it all in. When it comes down to it though, I definitely think it's R&B. That's the thing about it. I feel like this is the best period for me to come out because you know, R&B kind of hit a bottom and now I think we're coming back. You know, R&B doesn't have to all sound alike. It's like in Rock – there are different types of rock. You know, different drums and you go to different types of bands for different types of sounds. It's the same for R&B. It should never be that every R&B singer has to sing over a Hip-Hop beat, you know what I mean? Now it's like you can sing over a lot of different things. As long as you got that soul in there, you got the topic and the romance and the love and the realness of just urban life, then it's definitely R&B.
I know that most of the music you've put out, you've worked with Krucial [Keys]. Are there any other producers that you'll be working with on this EP or next year's album, other than Krucial?
It's all in-house – all Krucial Noise family. So not just Kerry Brothers, but J.L. Brown and the other producers that I work with, so, it's all in-house like they used to do back in the day. You know, when an artist used to work with a couple of producers, you catch a vibe and you kind of build on that vibe. That's pretty much what we've been doing.
With this upcoming album, is there a title to it yet? Or can we know it yet?
Nah, I don't even know the title to the album [laughs]. I mean the EP is We've Met Before, but the full length album, I probably won't know that until the day before [laughs].
Do you have anyone featured on the album yet or is that information you have to keep quiet?
Well, we're working on some stuff now. There's some people I would definitely love to get on the album. I would love to get Kendrick on the album. If I could get another duet with Alicia Keys that would be amazing. There's also another dope artist named Maxine Ashley who I've recently been hanging out with. She's really, really dope so hopefully I can do some stuff with her. So, yeah, there's some stuff in the works.
With the artists that you've worked with in the past, is there one that you've enjoyed working with the most?
Definitely Alicia Keys. I think it was the most enjoyable because of course, I've idolized her for like 10 years and I've crushed on her [laughs]. But also, it was really cool to see how she works. It's always cool to see how an artist that you've followed for so long records and connects with music. You learn from that and it was really cool to see her doing her thing. And also it was really cool because she's so humble and so real. It's hard to find artists that have been on top of the game like that who still have that sense of realness and can be down to earth – it just makes them really good people.
I know that you just said you've had a crush on Alicia in the past, but do you have someone who is currently your musical crush?
I got a gang of crushes. I got a crush on Rita Ora. I've had a crush on Rihanna – definitely – more than one time. Yeah, probably some more about to come up, I don't know [laughs]. Those are my top right now [laughs].
That's totally understandable [laughs].
Who's your crush? I'm gonna put you on the spot, right now.
[Laughs] Oh…um, I've probably had a crush on Trey Songz for forever. Um, I have a crush on Kevin Cossom. He's from my hometown. Probably a few other people too, but I try not to fawn too much [laughs].
Yeah, don't put it out there too much [laughs]
Are you currently dating anyone?
Oh no, I'm single – hella single. Single, single, single [laughs]. I'm definitely open for Mrs. Right to come walk in to my life.
If you could remake one song, what would it be?
Uh…man, I guess it would be the songs I wish I had written. Like "Crazy" – the Gnarls Barkley song. I wish I wrote that song. You know what song is so sick and I wish that I wrote it? That new Drake song, "Hold On, We're Going Home". I wish I wrote that song. That's a good song.
If you could interview anyone – dead or alive – who would it be?
I think if I could interview anybody, it would be someone like Basquiat – like an artist. I think it would be dope because it would be cool to see what the scene was like back then. You know, like what the 80's was like back then in New York and you think about the people he was around back then like Madonna and all these musical people. It was when music and art kind of came together. I do think that it's still kind of like that, but I think it could be a better mixture. I feel like it could come together even more. I think they're just two things that go together. I would love to hear what his story is and how he came up. How he got to meet Andy Warhol, Madonna and other artists. Also, how he was around the early rap scene when it was just coming up in New York. All of that kind of stuff.
What are you looking forward to people talking from your upcoming EP and album?
Well, I think the main thing is I want people to – it's not that I want people to take something from it, but I want them to be able to add themselves into it. I hope that when people are going through whatever they're going through, those songs can kind of touch and talk to those certain experiences. I feel like hopefully, people can identify to what the music is saying and be like, "Yo, I get this", so it's not just my story, but their story too. So, hopefully, people will walk away adding something to the music. That's always the main thing that I've always wanted to do in terms of leaving a legacy. I want people to walk away you know, thinking that, "I remember when I first heard this song, I was going through such and such".  Or "It got me through this break-up" or "I remember I was in love and I loved this song". Whatever it is, hopefully people can just apply it to their lives somewhere – that's what I want.
That makes perfect sense. If you could give any words of encouragement to someone trying to get into the position that you're in, what would it be?
I say the main thing is to be disciplined about your art and disciplined about getting yourself out there. You gotta put yourself on line, you gotta get your stuff on the internet. Especially if you don't live in those markets like New York or L.A. and you can't just meet people on the street that do music. You gotta get yourself online and start trying to get shown. Which is the dope thing about the internet because you can have control of your artistry. Then, secondly, there was a quote on a website that said, "Would you believe in what you believed in if you were the only person who believe it?" And that's for artists because you're going to get a 1,000 no's before you get that one yes. The main thing is to believe in what you're doing even if everyone hasn't caught up to you yet. You gotta believe in yourself that hard if everyone else is going to believe in you.
-Interview by Ni'Kesia Pannell
Pick up Mateo's brand new EP 'We've Met Before' on iTunes now!