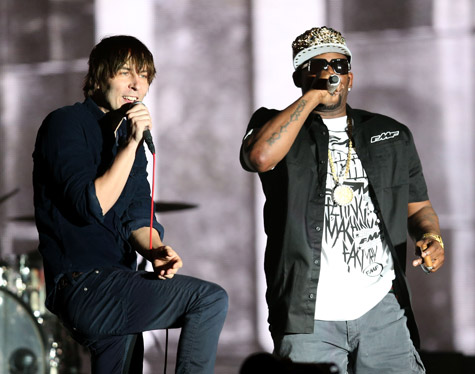 R. Kelly shocked the music world when he made a surprise appearance during French band Phoenix's set at his years Coachella Festival. The situation had such a positive outcome that the R&B King ended up recording a remix to their Indie Pop hit single, "Trying To Be Cool."
The union has proven to be a perfect example of Roberts chameleon like musical genius, and an excellent blending of different music worlds.
Robert recently spoke to Pitchfork about the collaboration, and their Coachella performance. Check out what he had to say below:

Pitchfork: As far as the "Trying to Be Cool" remix, it's funny because when I think of the concept of "trying to be cool," R. Kelly is like the last person I'd think of– it doesn't seem like something you've ever had to worry about.
RK: You know, I'm almost agreeing with you here, but I know how to transform my music and channel it. When you have the gift, you're able to tap into the secrets of that gift. I don't want to sound like I'm bragging, but when two great entities in two genres meet, it's powerful and it can't be denied. People are going to recognize the realness and go along with it.
Do you remember the last time you had to try to be cool?
RK: Those were my high school days, and it didn't work. But I wasn't singing then. Once I started singing, I didn't have to try to be cool. I was just one of the coolest guys around.
What kind of reactions have you gotten to this collaboration?
RK: I was in the studio with my homies, and before I played it, I was scared because I'm used to playing them some hip-hop or R&B joint. But then I put the ["Trying to Be Cool" remix] on and they actually loved it because it has that feel of "Play That Funky Music" and Hall and Oates. That disco music of back in the day, but upgraded to now. They started grooving to it, saying, "Man, what the hell is that?" "It's Phoenix, man. It's Phoenix." Then I was trying to act like I knew all of their music and I grew up listening to them and everything. You know, I was frontin'! But they were loving it.
How familiar were you with Phoenix's music beforehand?
RK: Not that familiar, but I heard the name so much; I stay so buried in the studio, just like I'm sure those guys do. My manager told me, "The group Phoenix really love your music and would love for you to come out as a surprise guest out of nowhere and perform." I'm like, "Huh? I don't get it. What do you mean?" An hour later, I'm still saying, "I really don't get it." Then they sent me their song and showed me how they put my song "Ignition" in there with it, and I just started trying to gather my ears around it. I played it about 10 times and then I got it. I was like, "Wow! This is going to be real interesting, let's do it!"
What was different about a gig like Coachella compared to one of your own shows?
RK: Well, besides there being a whole lot more people than I'm used to performing for, it was a shock to me because I really didn't know what I was in for– as I'm rolling up, I'm hearing all of these people screaming. It sounded biblical! Then as I walked backstage, I saw Phoenix performing out to this sea of people. I almost fainted. I became immediately nervous for real. There were just so many people.
Really? You regularly perform to pretty big crowds.
RK: But I'm going to tell you something, man, I get nervous even when I'm in front of my own fans because I'm looking for a certain level of screams, and that's what's going to give me the confidence to go out there and do what I need to do. But [Coachella] was a different scene for me, and when I saw all of those people– so many that I couldn't see the end– I started to pack up and run back to the bus. [laughs]
If you haven't heard the song yet, take a listen here!
Read the full interview here.