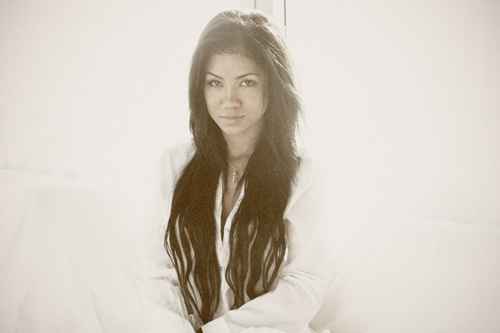 R&B has had it's number of artists come and go over the years.. Even the ones that produce stellar singles – or albums – can become victim to being a one hit wonder. Timing though, is one of the key factors to any artist staying relevant and respected in this tricky industry. Sometimes though, an artist can get the timing right and choose to walk away on their own only to reappear and have the timing be even better than before. This can definitely be said about bubbling songstress, Jhené Aiko.
Introduced to the world in the early 2000's through the group B2K, Jhené wowed fans with both her exotic looks and vocals on tracks with the young heartthrobs. Although her talent has been exemplified for many years, it wasn't until she took her career by the anchor and decided to sail in her own direction. Now, many years after her arrival onto the scene, the 25-year-old L.A. native has found a place in the heart of fans all over with her new music, including features on some of today's hottest songs. Recently releasing her new EP Sail Out, as a follow-up to the 2011 acclaimed mixtape, 'Sailing Souls,' Jhené seems to be setting her ship on the right journey as she's cruising her way into fame.
Known as an R&B fan favorite for the past couple years, Jhené is on her way to reaching new heights in her career. Proving that there's nothing in this world that you can't accomplish if you just continue to push through it, this young woman is taking over the scene with every day that passes. While in the middle of her hectic schedule and tour dates on Drake's "Would You Like A Tour," ThisIsRnB got the chance to chop it up with the songstress about her debut EP 'Souled Out,' the creative vision behind her new video for "The Worst," new song "Drinking and Driving" off Solange Knowles 'Saint Heron' compilation, touring with Drake and much more!
Get to know Jhené better through the exclusive interview below!
First, I want to congratulate you on your new EP 'Sail Out.' I've listened and it's fantastic – I love it.
Thank you so much.
With the EP, how did you come up with the title for it?
Well, you know the mixtape was Sailing Souls – it's basically like a play on words – and to me sailing like going with the wind, is completely different then selling for money. So you know I guess Sail Out, it basically means to be free, go with the flow and it's just like a symbol of who I am as a person and what I believe in.
The cover is very unique and original. What made you choose that specific artwork for the EP?
I wanted to keep the theme along with the mixtape and I actually saw a picture of this woman walking towards boats – but it wasn't as hopeless looking it was a pretty picture – and I just wanted to do that. I really feel like it's a symbol of me walking into a scary world fearless and just having faith and going with the flow and not being afraid basically.
One of my favorite songs by you currently that I have on replay is the song, "The Worst." I know you dropped that video earlier this week, and one thing that I wanted to ask you about the video is there's a scene where you're making a PB&J sandwich and you step over the guy – your dead lover. Where did that creativity stem from when creating that specific scene in the video?
[Laughs] Um well, I'm sort of like…people think that I'm really sweet – and I am for the most part – but I can be very sarcastic and I like to be funny too and I thought that part was hilarious. When we were filming and he was laying down, I was like, 'You know what would be so funny? If I just kicked him like f him," – you know what I mean? The whole video is me acting out my most darkest fantasy of someone that I feel like did me wrong and doesn't need to be in my life anymore. Obviously I would never kill anyone, but I just think that it's a metaphor for getting rid of that person in my mind and killing those feelings for that person. So yeah, we added that last minute. I was like, 'It would be really cool if I just kick him.' He's already dead so it's clearly doing extra, but yeah.
[Laughs] Great! So what would you say is your favorite track from the EP?
My favorite track from the EP would be "Comfort Inn Ending" and I would say out of the seven songs, that song is the most recently recorded and I feel like that it is a preview into what the album is gonna sound more like as far as music and vocally and the stories are just super personal. And uh, you know it was a freestyle and one of the first times I didn't really think twice about what I was saying. I was just like 'Ugh, I'm just gonna say it' off the top and not really care about if I hurt anybody's feelings or anything like that. I think that it came out to be one of my most honest songs and even like the vocals. I'm really pleased with my vocals on that song too. So, yeah.
Let's talk about this tour that you've been on with Drake. How has that experience been?
It's been crazy. His fans are amazing. I come out in the middle of his set and the crowd is at full level. I don't even know how to say it. It's like the part where I come out, the arena is full to capacity of the people that are coming there to see him so to just hear them to recite my lyrics when I come out word for word, it's crazy and it's just like one of the best experiences so far.
Do you have plans to go on any solo tours?
Yeah, for sure. Hopefully at the beginning of next year, I'll be putting out a single or something for the album and then the album, so definitely I would love to. Even a tour with the EP I would be down to do [with] smaller venues. I love performing, so yeah.
So, the album 'Souled Out,' when do you have plans to release that?
Souled Out is gonna be out next year. I don't wanna say around what month because you know how that goes. I wanna be sure of the date before I say it's gonna be this time. But for sure, I'm really excited to release the album just because people were really excited about that EP and I feel like there's so much more where that came from. I'm like, 'OK, OK'. I'm sort of impatient. I want you to hear all of it though, you know? So, the album is basically complete. 2014, I'll definitely keep everybody updated.
Are there any collaborations that we can expect on this album?
So far, there are no features. Not purposely, but just because…at first when I was recording Sail Out, I was making room for features and I would stop writing and be like, 'OK, leave 16 bars here for a rapper' or whatever. But then I had a talk with No I.D. and he just gave me this pep talk like "You can stand on your own. You can do these songs – you don't really need a feature because you can do the songs yourself". I was like, 'You know what? You're right'. That just made me be less lazy [laughs] and record songs from top to bottom. But I definitely feel like, you know, if I'm in the studio with someone and they hear something that they really have a personal interest in and they wanna get on the song, I would make room for a feature. But as of now, no, there are no features.
Speaking of features, you have literally been at the top of everyone's list to call on for a collab or feature. What would you say has been your favorite track to record on?
Well, "From Time" by Drake was one of my favorites just because that beat I would've wanted for my project. That's something I personally loved. It's also fun to work with Sean – Big Sean. I think one of my favorite features was one with him on his mixtape, Detroit – "I'm Gonna Be" – and I don't know, it's the same thing. I just personally love the song. I can listen to the song right now like I'm not on it, you know ? Just because I like the song.
The new song "Drinking and Driving" that you have on the 'Saint Heron' compilation, how did that come about? 
That song came about [when] I met with Dot Da Genius which is a producer. The first time meeting him, he played me this track – I was in the studio and he played that track. I was like, 'Oh my God, I've been writing this song in my head'. I literally recorded the song in like 2 hours. When it came down to putting it out, Solange had approached me about doing the compilation, she was like, "But we want something that's an exclusive song that's not on any project". I was saving "Drinking and Driving" for the album, but I just felt like it's just one song out of all these other songs on the album that I wanted people to hear. That's also one of the more recent songs that I recorded so I wanted people to get a glimpse into what's happening now in my life, know what I mean? That's one of my favorite songs that I've done so far.
Lastly, I know that you've been at this for a long time with the writing and singing and now, you're at probably a peek position in your career. Do you have any advice that you would give to someone who's trying to perhaps take the same route that you took?
I would just say, you know, stay at it and don't  – even though it's cliché – don't let anyone tell you that it's not for you. I feel like if it's truly a passion or what you love to do, no one will get in the way of that anyway. If you do it because you love it, you're gonna do it regardless of popularity or praise or anything like that. I always felt like no matter who said they liked the music or not, I'm still gonna make it because I'm doing it really because I like doing it and it's self-satisfying. You know what I mean? It's helping me release my feelings and stuff like that. So, i just say like really make sure it's your passion and do it because you love it. If you're doing it because you love it then it's only a matter of time before you reap some type of reward for it.
-Interview by Ni'Kesia Pannell
Jhené Aiko's 'Sail Out' EP is available in stores and on iTunes now!