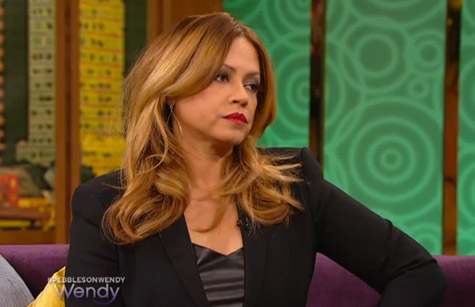 Pebbles is breaking her silence. After her unflattering portrayal in the VH1 movie CrazySexyCool: The TLC Story, the former manager of TLC appeared on "The Wendy Williams Show" to defend herself.
"It was a complete lie," she told Wendy during her visit to the show on Wednesday.

In the film, the former wife of L.A. Reid is accused of cheating the group of millions. She said that she has not spoken out before because of confidentiality agreements in place.
"It was laughable some of the stuff. It was just so over the top," she said of the film.
"It's not really about the girls. They are the messengers. You keep saying something that is not true. That's not OK. But VH1, you are helping them promote an untruth."
She referred T-Boz, Chilli, and Left Eye to a law firm to get their contracts negotiated, but claims it was not her own lawyer.
When asked if it was true that the girls got $25 a week and Toyota RAV4s after they went platinum, she said, "I don't do $25 on things. I'm a very generous person. That's a lie, a huge one."
She said the girls wanted RAV4s so they got them. "You don't have Ferrari money, why get you one?"
Despite what the movie shows, she refutes reports that she kicked Chilli out of the group. "T-Boz and Left Eye did," she said to the shocked audience.
She claims that they didn't like the fact that Chilli was having a relationship with producer Dallas Austin. "They did not like it, they did not want it. It is the truth."
Her daughter Ashley was in the audience and spoke about her controversial on-air comments about punching Chilli if she saw her. Her mother reprimanded her, saying, "We don't do beatdowns."
She denied rumors that she walked in on Chilli and L.A. Reid having sex, but said she "absolutely" believes that they had an affair.
"The supposed true story is not true and VH1 will be hearing from me," said Pebbles, who is weighing her legal options.
[RU]