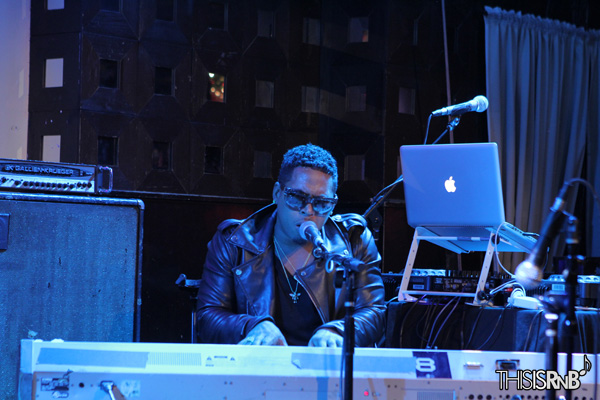 It was another great night for R&B in New York City on Tuesday, as BET held their end of the year Music Matters concert at SOB's. The monthly showcase put together an excellent lineup for their last show of 2013, featuring many of R&B's best emerging male artists.
Opening the show was singer/musician Curtis Fields, who was introduced to many with his performance at this years BET Awards. Curtis showed off his vocal talent and impressive gimmick of playing the guitar off an app on his iPhone. Next up was Bay Area native Adrian Marcel who wowed the audience with his vocal performance and stage presence, performing fan favorites off his debut mixtape '7 Days of Weak.' Following third was SOB's regular Mateo, who once again sang his heart out and played keys, closing with his latest single "How Good Is Your Love," which is currently on the countdown of 106 & Park.
The tempo of the evening was brought up when Austin Brown and his incredible band were introduced to the stage, delivering another roaring,  high-energy set of covers and songs from his 2012 mixtape 'Highway 85.' The second to last act was none other than Ro James, who has also become a stable at SOB's, and put on one of his best performances, keeping it tight Ro had the entire room singing along to his anthem "Pledge Allegiance."
Closing out the evening was R&B star Bobby V, who just released his impressive new EP 'Peach Moon,' featuring a new sound for the singer, which features all live instruments. Bobby being a seasoned performer with a catalog of many hits, reminded many why he is still a sought after artist, and in addition to his classics performed new tracks off 'Peach Moon' project, and showcased his skills at the keys.
The evening of great R&B was also co-hosted by platinum hitmaker and artist Rico Love, who has been seeing success with his own new single "They Don't Know." Check out our exclusive photos below: