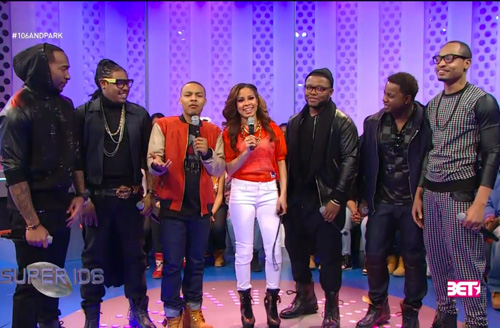 If you thought the talks of a reunion and tour for the men of Day 26 was mere hearsay, think again.  The fellas have started making their rounds to let everyone know that it is indeed coming!
Taking to BET's 106 & Park last night, all five original members joined hosts Bow Wow and Keshia Chante on set to discuss their upcoming plans. Exciting news to say the least.
Also addressing how they ended up getting back together, Q – who fans weren't sure would really be back – told everyone last night:
"I got the phone call that they wanted to reunite, there's a brotherhood here, so I was like 'cool, let's make it happen'. 'Nuff said."
Claiming that there is definitely "no love lost", the members went on to state that they do in fact own their name despite the separation from creator of the group, Diddy. Going on to state that there IS new music on the way, fans can expect a dominating year for the boys of Day 26.
Take a look at their visit to 106 & Park below: