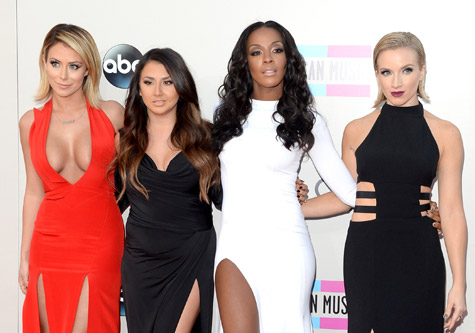 By now you should all know that the ladies of Danity Kane are back together, and working on their much-anticipated comeback. Since the announcement last year, fans have been feenin for some new music, and today the DK four deliver.
Dawn, Aubrey, Shannon, and Aundrea debut their funky pop jam "Bye Baby," where they kiss their men goodbye and don't look back.
"'Cause baby there's more, more, more out there to love than just you/ Since I can afford more, I don't have to settle for you/ But don't cry baby," they sing on the catchy chorus.
The group also debuted a new song called "All in a Day's Work" during their comeback show at L.A.'s House of Blues last month.
They have been in the studio with hitmakers including The Stereotypes, Da Internz, The Underdogs, Ester Dean, James Fauntleroy, and Rob Knox, and are expected to announce a label deal soon.
Take a listen to the new single below!