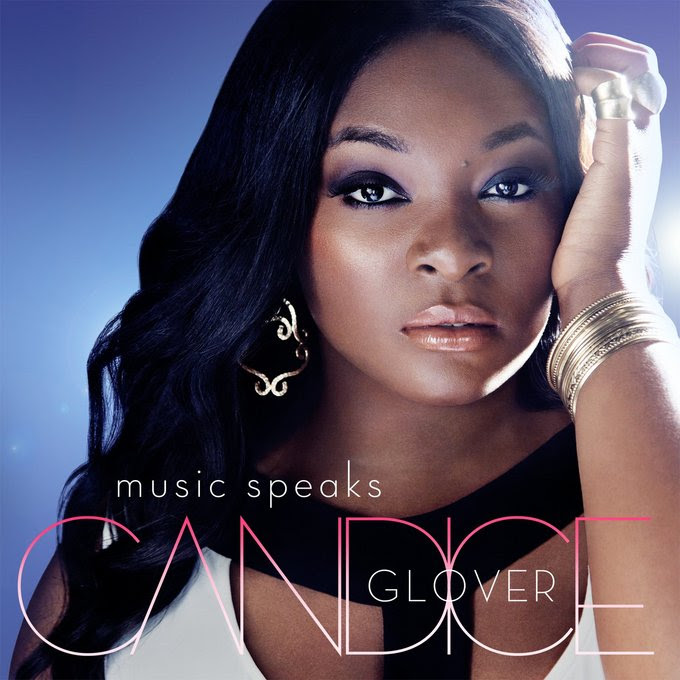 There's an unfair stigma that comes along with the American Idol title. Some have managed to eclipse its sugary brand, while others were forgotten as quickly as they shot to fame. There are even fewer successful urban acts, however, to come out of the reality singing competition machine. With the exceptions of Fantasia, Ruben Studdard and the most storied career of Jennifer Hudson, there's not much of a blueprint for R&B singers in the space of American Idol.
With her debut album Music Speaks, last year's winner Candice Glover is clearly trying to sketch her name on that short and privileged list of success stories. The small town South Carolina gal with the gigantic range may not be as polarizing as some of her predecessors, but she's certainly just as talented, if not more. Comparisons to the show and the artists to hit its stage will probably never cease, however, being the first urban and female artist to win the coveted title since 2007 gives the singer a very much-earned spotlight – and thankfully she rises to the occasion.
On Music Speaks, Glover is not only introducing herself to the world, but she has the very tall task of proving she's no gimmick. Her tactic in doing so seems to rest primarily in her lyrical content, which is surprisingly very mature and quite refreshing, considering most R&B starlets these days seem to drink from the same pool of writers.

Glover tackles very grown up themes of being in love, including being in love with another woman's man on a song called "Damn," which is steered by the staccato of a piano, finger snaps and smooth vocals. "You keep trying to convince me you're gonna leave and like an idiot I always believe," she sings. Sure to receive comparisons to Jazmine Sullivan (who Glover credits as her biggest vocal influence and favorite singer), "Damn" is the 24-year-old's most impressive song lyrically, and is more of the route she should go musically.
Glover doesn't shy away from adult content, such is the case with the very literal "Kiss Me" and "Same Kind of Man," another lyrical gem where Glover belts a Amy Winehouse-like tune about falling in love with the wrong guy time after time ("Why don't I run as far as I can because I always end up loving the same kind of man"). On tracks like this one, Glover shines rather brightly, showing off her seemingly limitless range and killer control.
Vocally, Glover is boundless and commanding. Despite her obvious references to Sullivan, who penned the singer's ballad and first single "Cried," Glover holds her own and even finds pockets of opportunity to show off her vocal creativity with very smart and crafted placements. Her jazz and bluesy acrobatic runs work well on songs like "Coulda Been Me," which is reminiscent of a more modern Otis Redding track musically, as well as the reggae influenced "In the Middle."
But there are moments where American Idol's poppy influence seems to hijack Music Speaks, as some songs sound more like contractual obligations than something Glover would actually have recorded had she not had to carry the weight of her Idol crown. In addition to her idol winning song, "I Am Beautiful" (she also recorded a far better acoustic version), the ballads "Die Without You" and "Passenger" don't really fit what seems to be a very deliberate attempt by Glover to be authentically edgy and mature. Though she manages to add her stamp of vocal expertise, they don't seem to capture who she is as an artist…or at least the artist it appears she wants to be.
But truthfully, it's Glover's powerful voice and passionate delivery that carries this album, as opposed to actual contenders for a Billboard Top 40. As solid as most of the tracks are, none are likely to rid her of that American Idol brand, and whether that's a good or bad thing depends on which historical reference you use.
Nonetheless, any true fan of soul music and great vocals would gladly appreciate Glover's debut offering. She's a singer's singer, and at the end of the day, music is all about talent…and Glover oozes plenty of it. While it's unclear what it will mean for Candice Glover moving forward, she's certainly proven that she's earned her entrance into the music industry. Hopefully there's more to come.
–Review by Gerren Keith Gaynor
For more of Gerren's work, check him out on www.mrgerrenalist.com.
Candice Glover's debut album Music Speaks is in stores, and you can pick it up on iTunes now!