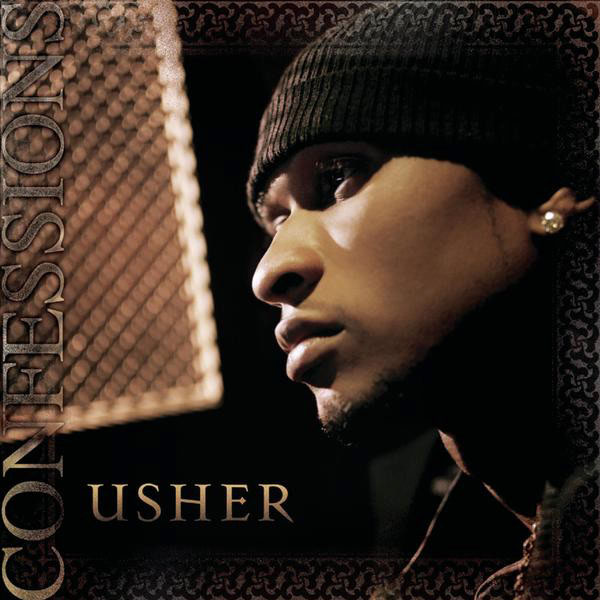 If R&B superstar Usher decided to step away from the revolving chair and retire tomorrow, there's no question that he would have a legendary career to look back on. The man has continued to show on several occasions that he is one of the hardest working artists in entertainment, currently assuming his role as host of NBC's 'The Voice', filming for the role of Sugar Ray Leonard in the upcoming movie Hands of Stone, and working on his anticipated eighth studio album, also expected to be released this year.  But, perhaps his most notable accomplishment to date was the release, and subsequent accolades of his album Confessions — which will celebrate the 10th anniversary of it's release on March 23rd.
Initially it was just expected to be Usher's fourth studio album, but over the past 10 years it's been regarded as one of the best R&B albums in history, and still remains the highest selling R&B title of the modern era.
Prior to the release of Confessions, Usher had certainly taken on the role of R&B playboy. Whether he was dropping his trousers in the video to "You Make Me Wanna," providing the lover's anthem with "Nice & Slow," or exposing his washboard abs in "U Don't Have To Call," Usher was gaining ground as the leading young R&B act in the post-90s environment. But, boys have to grow into men one day, and it was that basis that moved everything forward in creating Usher's fourth studio album, Confessions.

From its bold title, you could almost feel like it would be Usher's most telling-album to date. While he created his playboy records with frequent producers Jermaine Dupri and Jimmy Jam & Terry Lewis, the recording process this time around had a more mature air surrounding it, focusing on less transparent subject matters and letting people into Usher's world for the first time.  However, both inspiration and attention surrounding the album would come as the result of the break-up between Usher and his ex-girlfriend, Chilli of TLC.  Prior to the album's release, Chilli placed the blame for their split on Usher's cheating ways.  Whether it was true or not, the controversy surrounding it only began to amplify intrigue for the album due to its daring title and even more daring title track. "Everything that I've been doing is all bad / I got a chick on the side with a crib and a ride / I've been telling you so many lies / Ain't nothin' good, it's all bad," Usher sings on "Confessions (Part 1)."  On Part II of the title track, he would take it further revealing that his adulterous ways eventually lead him to having a kid with his side chick ("Got me talkin' to myself askin' how I'm gon' tell you / 'Bout that chick on Part 1 I told ya'll I was creepin' with, creepin' with / Said she's 3 months pregnant and she's keepin' it").  Later on, Jermaine Dupri would reveal that the story in Part II, was about his personal life.
It was a level of assumed authenticity never really explored before in R&B, considering the fact that it was allegedly mirroring the real-life story as we – the public, were watching it unfold. Suddenly, the attention transferred from tabloid headlines to the music itself.  The world needed to know what was going on, and what better source than an album entitled Confessions.  From that alone, the album instantly became a license to print money.
The legacy that the album carries couldn't stand alone on a decade-old controversy; the strength of the music is absolutely there. Confessions remains as strong as it is due to the growth, cohesiveness, and overall sound of the album. Whereas 8701 felt like a snapshot of the turn of the millennium contemporary R&B sound, Confessions' traditional R&B feel kicks the overall quality up a notch. Usher traded up with strong vocal impressions on "Superstar," a glorious hip-hop/soul backdrop on the Just Blaze-produced "Throwback" and the incredibly sensual "Can U Handle It," written by a young Robin Thicke with female background vocals by Paula Patton.
The record's breakout singles also made the album an extremely anticipated release. Usher captured the radio, clubs and streets with the release of the lead single "Yeah!", a collaboration of crunk and R&B created by producer and featured artist Lil Jon. Littered with Jon's inescapable ad-libs, rhythmic siren synths, and an unforgettable verse from rapper Ludacris that "filled cups like double D's," it was the perfect storm to create a radio-smashing single – unshaken from the top spot on Billboard for 12 consecutive weeks. "Yeah!" would be replaced by his second single "Burn" for 8 non-consecutive weeks, "Confessions (Part II)" would close out the summer season, and fall would be dominated by the re-release duet "My Boo" with Alicia Keys.
Usher's confession conversation was at an all-time high throughout 2004, but nothing kept people talking more than its ground-breaking sales – especially for an R&B album. Part of Confessions' historic legacy lies in its astounding sales; historic for any album during that period and certainly astounding for any album in this period. On March 23, Usher released Confessions, and within a week it sold nearly 1.1 million copies. The album would not only give Usher the distinction of the highest first-week sales for an R&B artist in Soundscan history (1991 – present), but it would grow to be the highest selling album of that year, besting sales juggernauts like Avril Lavigne, Britney Spears, Norah Jones and Eminem.  Shortly after a month it would trickle over the 3 million mark, by the end of the year it would approach 8 million, and eight years later it earned the prestige of being the 19th diamond-certified album in Soundscan history, selling over 10 million copies in the U.S., and 20 million worldwide.
The second part of its incredible legacy lies in the trademark role it played in the success of urban music throughout 2004. In 2004, urban music dictated the direction of pop music with all 12 chart-topping number ones being held by black artists including Outkast, ("Hey Ya", "The Way You Move") Kanye West, Twista, Jamie Foxx ("Slow Jamz"), Ciara ("Goodies"), Fantasia ("I Believe"), and Snoop Dogg, Pharrell ("Drop It Like It's Hot") among others. Among the 12 number ones, Usher held four of those spots and remained on top for 27 out of the 52 weeks in the calendar year.
The landscape of 2004 is of course a stark contrast to 2013, where music from black acts was noticeably missing from the top spot on the Billboard Hot 100 charts for the first time ever.  Years following 2004, urban music as a whole took a hit with declining sales due to lack of mainstream prominence by R&B, which would eventually lead to the genre being cast out from mainstream video programs and award shows. However, urban music is on the rise once again. A few weeks ago, the Top 5 spots were occupied by Pharrell, Jason DeRulo & 2 Chainz, Beyoncé & JAY Z, Katy Perry & Juicy J and John Legend – the latter who owns the highest charting single for a pure R&B record in quite some time.
Ten years removed from its initial release, Confessions still stands as Usher's greatest work to date, in a decorated music career and arguably the greatest R&B album of the modern era — if not by quality, by the sheer magnitude of its release.  Confessions' legacy will always forever show the impact of what quality R&B music can offer to the world.