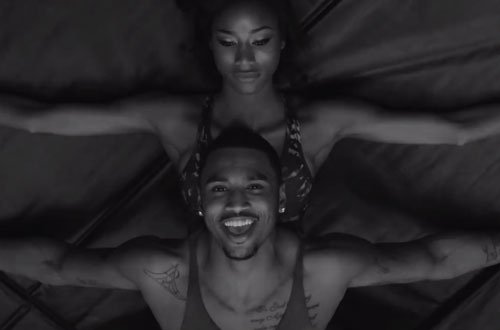 He's backkkk! Ladies, get your ice ready to help cool you down because Trey Songz is here to heat it up! Debuting the visual for his new hit single, "NaNa," the heartthrob is wasting no time hitting hard with the sexy.
The Gil Green-directed visual features Trigga looking very steamy with a few nice looking ladies to accompany him. Filled with fitness the concept is totally different than what we would have imagined. Since there's so much working out going on in the video, it was only right that he used one of the sexiest women out there to serve as his leading lady – Rosa Acosta.
If you weren't active before watching this, Trey will have you running to the gym to work on your physique after watching what he does with some of the ladies in here. Get the wet naps ready, y'all!
The intro to the video includes a promo for his anticipated sixth studio album simply titled 'Trigga,' which is due out this summer.
Take a look at Trey do his thing below!