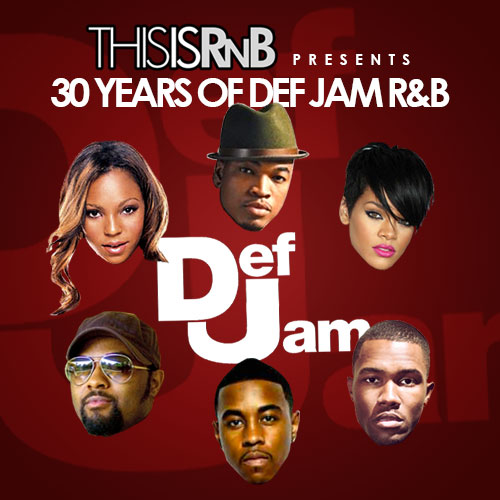 When it comes to hip hop, there's perhaps no other label that can serve as the almanac of the culture like Def Jam Records. From its doors opening 30 years ago, to the thriving, sustaining business it is today, the label has served as the cornerstone of hip hop culture providing us with an abundance of acts including from it's inaugural era in the '80s, (LL Cool J, Beastie Boys, Public Enemy, Slick Rick) to the 90-00s golden era of hip hop (DMX, Jay Z, Foxy Brown, Ludacris, Scarface) to even it's current era (Kanye West, Jeezy, Rick Ross, Nas, Big Sean). Def Jam continues to set the benchmark for the genre and their contributions have certainly made a noticeable dent in the framework of the culture over the last 30 years.
Alongside their thriving rock-hard raps, Def Jam Recordings is also recognized for their contributions to R&B music. From their first R&B release in 1986 with Oran "Juice" Jones, Def Jam has made their mark in R&B. Over the past three decades they've incorporated spin-off labels like Def Soul Recordings, created subsidiary imprints like OBR Records, merged with Island Records to create 'Island Def Jam' all the while introducing the world to acts like Ashanti, Ne-Yo, Musiq Soulchild, The-Dream, Frank Ocean, Rihanna and making them into superstars. Coinciding with the 30th anniversary of Def Jam Records, we are celebrating their R&B contributions by counting down the Top 30 Def Jam R&B Hits.
Get into the Def list below!
'30 Years of Def Jam R&B'
30. Chrisette Michele – Epiphany
If there's two words that could describe Chrisette Michele's career thus far it's: criminally underrated. Over the past few years she's continued to prove her worth with consistent gems, and her somewhat sultry, kiss-off single "Epiphany (I'm Leaving)" holds up as one of her best. In the official video she stars alongside her leading man Drake, leaving him as nothing more than a memory. If this single proves anything, it's that we may have Chrisette Michele to thank for Drake's heartbreak anthems throughout the last couple of years.
29. August Alsina – I Luv This Sh**t (Feat. Trinidad James)
August Alsina is a crooner with the disposition of a hip hop star, so Def Jam Records may indeed be the perfect place to allow his career to grow. In a music industry where first impressions are everything, the Nawlins native introduced himself to the public with his breakout single, "I Luv This Shit" featuring fellow label mate Trinidad Jame$. The success of this single has earned him his first gold-plaque on the heels of releasing his debut album, Testimony.
28. Lloyd – Southside (feat. Ashanti)
From the moment "Southside" premiered as the "New Joint of the Day" on 106 & Park in 2004, the ride-or-die anthem captured ears and hearts of R&B lovers across the country. With the collaborative forces of Def Jam and hip hop's hottest subsidiary, Murder Inc, backing the ATL boy, Lloyd would emerge with a Top 40 record out the gate alongside Ashanti. With the single in the books and a decade long career that followed, we only have one question for Lloyd: Chicken wings on string?
27. Case – Touch Me, Tease Me (feat. Foxy Brown & Mary J. Blige)
Like Musiq's "Just Friends," Case's "Touch Me, Tease Me" was also part of 'The Nutty Professor Soundtrack' series that Def Jam distributed, along with his debut album. "Touch Me, Tease Me" is the epitome of the worlds between hip hop and R&B colliding with the braggadocios raps by Foxy Brown and his then-girlfriend, Mary J. Blige.
26. Jeremih – Down On Me (feat. 50 Cent)
After the instant success of "Birthday Sex" in 2009, the world wrote off the Chi-Town star Jeremih as a one-hit wonder. Cue "Down On Me" featuring 50 Cent to sock it right to his doubters. The single experienced a major viral surge (thank you Keenan Cahill) before eventually becoming the successful record it did. The single would eventually eclipse his debut smash, earning him a double platinum plaque for his efforts.
25. Ne-Yo – Sexy Love
Was there anyone who could deny the appeal of this track? Ne-Yo heated things up in the summer of 2006 with the release of "Sexy Love" as a single, highlighted by it's extremely intimate visual which perfectly painted the picture of his suggestive lyrics ("And I erupt like a volcano and cover her with my love"). The single would land Ne-Yo another Top 10, and place him in the upper echelon of the new R&B movement that emerged in the 00s.
24. Dru Hill – How Deep Is Your Love
Back when soundtracks were still a thing, Dru Hill earned their biggest single to date as part of the lead track from the Rush Hour soundtrack. With the success of male R&B groups in the '90s like Jodeci, Jagged Edge, Boyz II Men to Blackstreet and others, Dru Hill held their own with three-chart topping singles on the R&B charts including "In My Bed" & "Never Make A Promise".
23. Ashanti – Rock Wit U (Aww Baby)
After the Guinness World Record-breaking debut that Ashanti had back in 2002, many would wonder if she could continue to keep cranking out hits with her sophomore LP. Wasting no time, she issued her album Chapter 2 with the shimmering, summer single "Rock Wit U (Aww Baby)" in tow. The single was highlighted by its tropic-themed visual, with the world falling in love with Ashanti's cocoa butter-skin and rocking body.
22. Case – Happily Ever After
Connoisseurs of 90's R&B will never forget this track for its romantic visual starring what would become one of the world's biggest artists, Beyoncé. Case signed to Def Jam in 1996, but his 1999-hit "Happily Ever After" will forever be the standout track of his catalog. We're almost sure this became the soundtrack for many weddings at the turn of the century and beyond.
21. Ne-Yo – Because of You
Fresh off the success of his debut, Ne-Yo soon after released his sophomore story with the album Because of You and it would be one of his early glimpses of him channeling his inner-MJ with the title track, and lead single off the record. The pairing of a groovy melody and heartfelt record would be Ne-Yo's weapons of choice, and would carry him to another victory on the charts.
See More on Page 2…