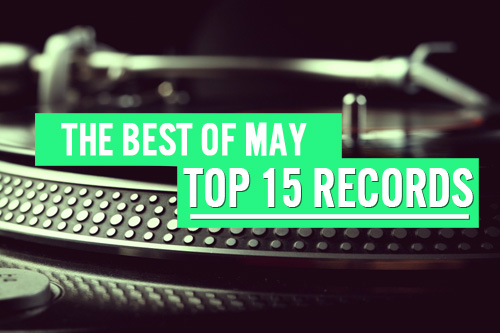 With summer just around the corner, it's only right that we bring you some real deal hits with this month's roundup of tunes!
While we're always prone to giving you that good good when it comes to R&B music, it's just something about the month of May's releases that set everything right in the world. Could it have been the re-arrival of superstar Usher with his hot new single "Good Kisser"? Or was it the posthumous release of Michael Jackson's album Xscape? Although we really don't have an answer for just exactly what it was about this month that shifted the world of R&B back on its correct axis, we do know that we like it!
From the seductive sounds of some of today's hottest artists to the uptempo beats of the next wave of greatness, our "Best of May – Top 15 Records" will have you rushing through June to see what we come up with next.
Soak up the heat after the jump!
Usher – 'Good Kisser'
Yeahhhh mannnn – Usher is back! It's been a decade since the superstar released his incredible Confessions album and we think this upcoming project just might be the follow-up that we've been waiting on. Releasing his first single, "Good Kisser," at the start of the month, there's no way we could've left this one off of our list. Filled with sexy lyrics and a dance worthy beat, "Good Kisser" had us flashing back to the feeling he gave us 10 years ago with those classic Confessions.
Michael Jackson feat. Justin Timberlake – 'Love Never Felt So Good'
While the world still mourns the loss of the great Michael Jackson, we were given a small piece of him this month with the release of his second posthumous album Xscape. Although talk of the album had been around for quite some time, it didn't feel like it would come to surface. Debuting the Justin Timberlake assisted single, "Love Never Felt So Good" during the iHeartRadio Music Awards with Usher busting some dope moves, fans of the historic artist got to see firsthand just what was so worth the wait. Hitting our list without any thought, MJ & JT's collaboration is sure to go down in musical history.
Mariah Carey feat. Wale – You Don't Know What To Do
Oh Mariah, how we love you so! While her latest album, Me. I Am Mariah…The Elusive Chanteuse, had a few challenges before its release this month, it was very much worth the wait…just due to this single. Giving us the old Mariah that we've been missing, the "Fantasy" singer took it back to the skating rink days with the Wale featured single, "You Don't Know What To Do". If you ask us, this should have been the song to get fans ready for what was to come with her highly anticipated album.
A totally hot single for fans to enjoy, it should be no surprise that we dropped it on our list this month.
Sebastian Mikael feat. Rick Ross – '4 U'
Following the release of his two hot singles "Last Night" and "Forever," Slip N' Slide artist Sebastian Mikael is keeping them coming. Delivering his third single just in time for the summer fun, the young singer brings along Rick Ross to make the ladies fall in love. Creating a 3 for 3 track record, the groovy song titled "4 U" will be found on the debut album, Speechless.
Robin Thicke – 'Get Her Back'
After the separation of one of entertainment's most lovable couples, Robin Thicke has vowed to do what it takes to bring Paula Patton back to him. Debuting the new single, "Get Her Back," at the Billboard Music Awards earlier this month, the superstar singer proved that he will do whatever it takes for love. Naturally dedicating the song to Paula and their lengthy relationship, we hope that the song – which will be found on his July 1 album – will bring the lovers back together.
Get More On Page 2…