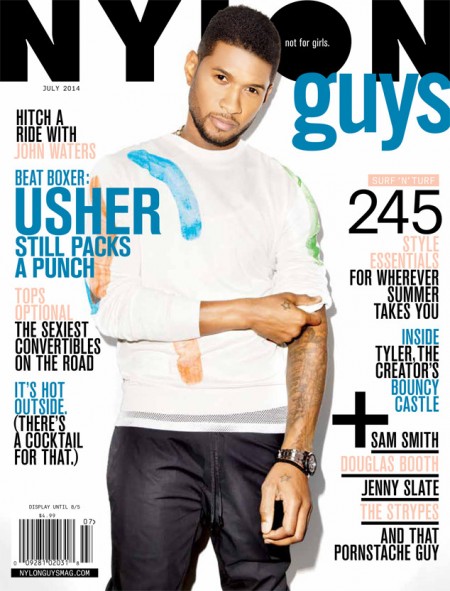 Roll out the red carpets and get your wet naps ready ladies! Usher is officially back and ready to take over the R&B game once again!
Currently sitting on top of the world as his latest single "Good Kisser" is getting much traction with fans, the longtime heartthrob is still dancing his way in our hearts. From the time he glided on the scene in his teens, Usher has seemingly done no wrong in our eyes. And, even when he did, it made for the best bit of music we've ever gotten the pleasure to hear.
Now, well into adulthood, Mr. Raymond is back to bring us some heat. Making us drop a few beads of sweat as he covers the latest issue of Nylon Guys, the "You Don't Have To Call" crooner is making us want to do just that.
Catch more after the jump!
Catching up with the famed magazine, Usher took the time to address a few things that needed to be said. When asked about how he felt about his fans reaction to his musical output, the incredible vocalist said:
"In all honesty, I give one shit. I do hear them-that's why I say one shit. I do give a shit, but not two shits. Two shits is a lot. I care enough to make sure they understand that I'm making it for them, but I've got to be true to where I am."
Also touching on his mentorship from Diddy at such a young age, he stated:
"Artist development made me who I am. Somebody took the time to help me find what it is that works for me as an entertainer and who I am as a music maker."
And we couldn't thank Diddy enough for that.
Throughout his years as an artist, we've gotten the opportunity to see Usher grow from a young boy to a full out grown man and we're more than impressed with the outcome. While on the subject of industry navigation and growth, Usher also had this to say about the current scandal going on with his mentee, Justin Bieber:
"I gave every bit of advice and always told him it was up to him if he really wanted this. Now that he has it, as an adult, it's his to manage. Do I turn my head in shame based off of what I see, what I know? Nah, I don't because it's all part of life's process. Am I in it with him? Yeah."
Admirable to say the least.
Take a look at a few of the shots from Usher's spread in the June/July issue below!
(Via Nylon Guys & People)