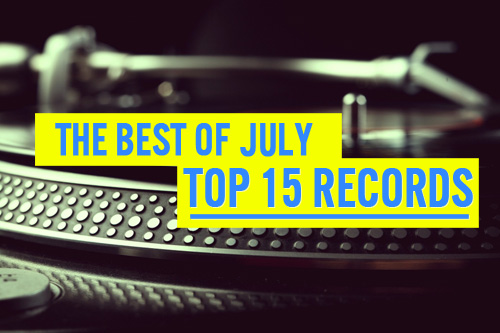 While July is known for record-breaking temperatures, trips to water parks, school shopping and enjoying the last few weeks of summer, it's known to us in the ThisisRnB offices as another month of solid R&B releases.
Whether you were a fan of Usher and Tanks's dance heavy tracks or went the more subtle route with either Adrian Marcel or Azekel, there's no denying that July brought ThisIsRnB listeners some pretty soulful and sultry singles. Following suit of June, July had its slow moments, but as always, true music showed up and showed out! While there's really no way that we can make everyone happy with our lists, we definitely do the best we can by pulling the tracks that we feel are deserving of being deemed "Best of".
Therefore, kick off your shoes and relax your feet as we bring you the tracks that had us hitting repeat all month long.
Check out our "Best of July – Top 15 Records" below!

Usher feat. Nicki Minaj – She Came To Give It To You
2014 marked the 10 year anniversary for Usher's Confessions album and the R&B vet is making sure he celebrates properly! Releasing his new single featuring Nicki Minaj titled "She Came To Give It To You," the talented artist surely came to give it to us this time around. Following his well-received single, "Good Kisser," the newest release from the singer's yet to be titled album is definitely another reason why we'll be running to the stores to cop that ish once it hits shelves later on this year.
Elle Varner feat. A$AP Ferg – Don't Wanna Dance
Elle Varner is back with some feel good music and we're all for it! Channeling the Elle that we fell in love with from her 2012 debut album Perfectly Imperfect, her brand new A$AP Ferg featured single, "Don't Wanna Dance," has us back singing her praises. While it might be about staying inside with your lover, the track provides a perfect vibe for any summer soundtrack.
Adrian Marcel feat. Kelly Rowland – Honey
While July was a little slow on the releases, one mixtape that saved the day was Adrian Marcel's Weak After Next. After a little wait, the Cali singer supplied us with incredible songs that fit the mold of true R&B. Found on the tape was his Kelly Rowland assisted record "Honey." Talking that good sh*t to us, this track took us back to real love making and feels oh so sweet to our ears.
August Alsina feat. Nicki Minaj – No Love (Remix)
Our young boy August Alsina is making waves in the music industry and the remix to his "No Love" cut is here to prove it. Featuring YMCMB's own Nicki Minaj, the new and improved version of the single has been taking over airwaves since it dropped. While it ended up releasing a little later than anticipated, it was more than worth the wait.
Vivian Green – Get Right Back To My Baby
While one of our favorite tracks by Vivian Green will forever be 2002's "Emotional Rollercoaster," the gorgeous songstress might have us reconsidering what holds the top spot. Releasing her new Kwamé produced single, "Get Right Back To My Baby," Vivian takes a page right out of the '80s as she samples Frankie Beverly and Maze's classic single, "Before I Let Go." A real dance track, Vivian came to get us right back to R&B with this one!
See more on Page 2